I'm not a brand snob. There are very few things that I actually recommend by brand; other than toilet paper, dish soap, and Q-tips, I'm an off-brand type of girl. Whatever's gonna save me some money, I'm good with it. Which is why I don't have an Instant Pot *the crowd gasps*, or a pressure cooker with a yogurt function.
It didn't take me long to find out that you can make pressure cooker yogurt in any kind of pressure cooker, even one without a yogurt button. Sure, it takes a couple extra steps. But when you taste the creamy deliciousness of pressure cooker yogurt, it won't matter anymore.
Seriously though, if one of you want to buy me that Instant Pot 8 quart 9-in-one, I'd be more than grateful. Because I'm not against big brands, I just ain't rich. But sometimes I cut corners where we can and it makes me feel good to get something at a great deal.
I've been having my pressure cooker for a while, probably before they got extremely popular. Although I do wish I had gone with Instant Pot first. Between the simple functions and great customer service, they're well worth the price. Especially since I've already had to order replacement parts from China for my off-brand.
But, if you're like me and your pressure cooker doesn't have a yogurt button, don't fret. We're gonna help you make some of the best pressure cooker yogurt, and your lack of buttons will no longer be an issue.
There seems to be a lot of discussion as to what kind of milk you should use when you make yogurt in your pressure cooker. Honestly, after trial, error, and research, there's little truth to a lot of claims. I'm just going to share with you what I've gathered and you can do with it what you may.
If you are using the "no-boil" or cold start method, or your pot has a yogurt function, you should be using an ultra-pasteurized milk. Ultra-pasteurized milk goes through a heating process that kills all other bacterias before you receive the milk, which means it is ready to be used in yogurt with no "bad" bacteria competition.
If you don't have a yogurt button, or if you're using the boil method, feel free to use any type of milk. You'll be heating the milk to over 180°F, killing all other bacterias which will make your milk safe from "bad" bacteria.
Whole milk will make the creamiest yogurt, while lower fat brands will make a thinner yogurt. Straining can help with thickening.
You can use any type of starter for your yogurt, as long as it has both live and active cultures listed in the ingredients on the back. Choose the brand and flavor you like or just go with plain.
Once you make your yogurt, save some for later when you'll need more starter for a new batch!
I've seen recipes that call for the yogurt starter in amounts of anywhere between 2 heaping tablespoons and 1/4 cup. The more you add, the thicker the result. But I don't recommend anything more than 1/4 cup.
A sweetener or flavor can be after the yogurt is cooled and strained.
If your yogurt seems a little lumpy, use a hand or standing mixer to mix thoroughly!
ThermoPro TP-16 Large LCD Digital Cooking Food Meat Thermometer

Euro Cuisine GY50 Greek Yogurt Strainer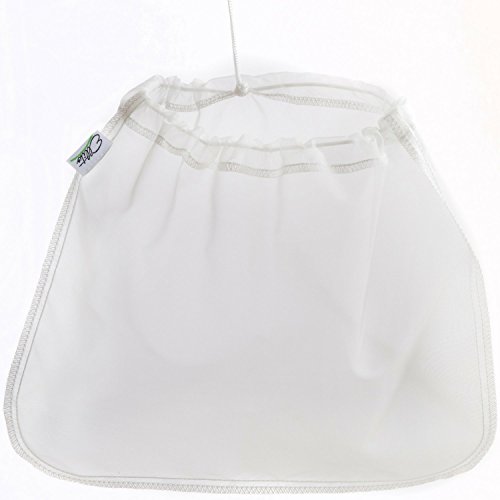 Pro Soy & Nut Milk Bag, Yogurt Cheese Maker, Fine Mesh Strainer

Instant Pot Ultra 6 Qt 10-in-1 Multi- Use Pressure Cooker

Pressure Cooker Yogurt, when you don't have a yogurt button
Usually, when making pressure cooker yogurt, you'll want to just press the button and leave it. But since we don't have a yogurt button, we'll be adding a few more steps. But everything is still very simple. Because we start with boiling the milk, you'll want to be sure that your pot is room temp or cold to start so that the milk doesn't scorch.
Pour a full gallon of whatever milk you choose into your pressure cooker and press the Sear/Saute function. This is the step that gets tricky. We'll be bringing the yogurt to 180°F to kill all bacteria. Not only do you need to watch the temp carefully, but you'll want to stir the milk often so that it doesn't curdle or burn.
Looking for pressure cooker accessories? Check out our post on the BEST Pressure Cooker Accessories that are non-brand specific and can work for almost any pot!
Once the milk reaches 180°F, you can just unplug the pot. Now, you'll want to let the milk cool to 110°F, stirring can help cool the yogurt faster, but it isn't necessary. Once the yogurt cools to 110°F, add your starter and stir until completely incorporated.
Immediately close the lid of your pressure cooker and lock it. This will begin the incubation process. Because your pot doesn't have a yogurt button, it won't keep the yogurt warming. I think wrapping the whole pressure cooker in a large beach towel helps the brooding.
You'll want to incubate for at least 8 hours, the longer you incubate the thicker and creamier your yogurt will be. Afterwards, you can transfer your yogurt to another bowl and chill in the icebox for at least 4 hours. If you prefer a thicker yogurt, you can strain while chilling. Once your pressure cooker yogurt has chilled, you're ready to add your sweetener.
Pressure Cooker Yogurt
You can still make pressure cooker yogurt if you don't have a yogurt button! We're showing you how to easily make your own homemade yogurt that is over the top delicious!
Ingredients
1

gallon

milk

2

tbs

starter yogurt

heaping, with live and active cultures

1

tbs

vanilla

optional

1/2

cup

honey

optional
Instructions
Start with a cool or room temp pot. You can stick your pot in the icebox, or put a couple pieces of ice in the liner for a few minutes to help cool it.

Pour 1-gallon milk into the pressure cooker.

Turn on the Sear/Saute function.

You will be bringing your milk to 180°F. Use a thermometer to check the temp often and be sure to stir so that the milk does not scorch or burn at the bottom.

Once the milk reaches 180°F, turn off the pot. You'll want to let the yogurt cool to 110°F. Be sure that you are still checking the temp often and stirring to help the yogurt to cool.

Once your milk has reached 110°F, stir in 2 tablespoons starter yogurt and whisk until incorporated.

Immediately close the lid and lock. Wrap in a large beach towel, or two regular towels and incubate for at least 8 hours.

After 8 hours, transfer your yogurt to the icebox and chill for at least 4 hours. If your yogurt is thin, you can also strain it while chilling.

If your yogurt is lumpy or inconsistent, whip it up in a hand or stand mixer!

After 4 hours of chilling, you can add your preferred sweetener. Your yogurt is finished!

You can refrigerate the pressure cooker yogurt in the icebox for up to 2 weeks and in the freezer for up to 3.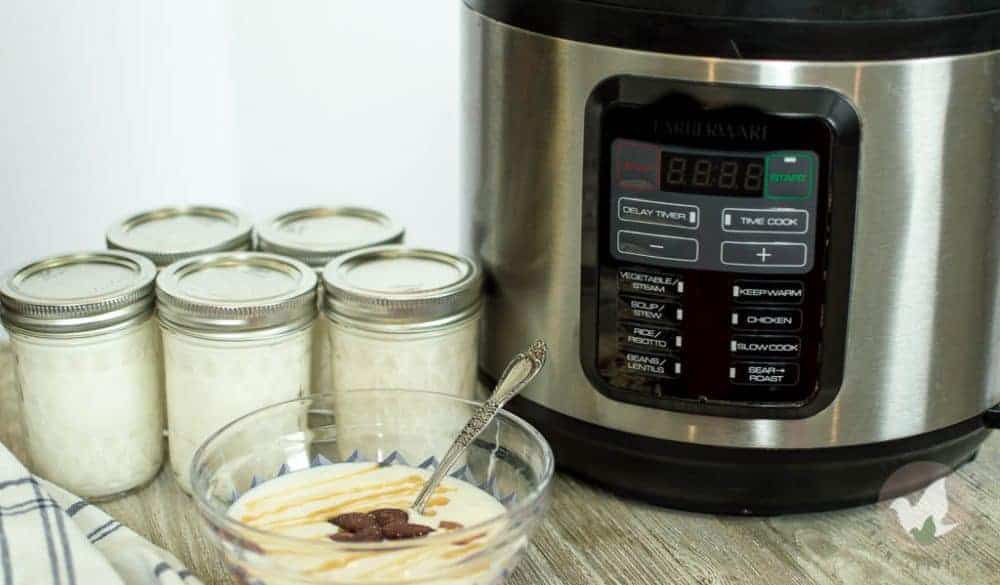 If you like vanilla, one tablespoon per gallon of milk gives it a nice flavor. If you prefer something like honey, try up to 1/2 cup per gallon of milk used. I like to add vanilla as a sweetener to my pressure cooker yogurt and then top it with granola, almonds, fresh strawberries and a little honey!
Are you looking for a community that loves their pressure cookers as much as you do? Or are you a pressure cooker newbie? Join our Facebook Community Pressure Cooker Family Recipes where you can be free to share your favorite recipes, ask questions, or share great tips and tricks too!