A Weekly Cleaning Schedule for the Homeschool Mom
The Fervent Mama uses Affiliate Links. See our disclosure policy here.
This post has been sponsored by Sonlight®. The opinions are my own and have not been swayed in any way.
My home is certainly not always clean. I'm sure that there are some perfect homes out there, but I can't pride myself on creating one of them.
Know that if you come knocking on my door unannounced, I sure hope that you can avert your eyes from the child-led mess.
I have my moments of a clean and sparkling home, but most days, it's just a home I would rather not discuss.
My best advice on managing your time as a homeschool mom is that you shouldn't expect your home to be sparkling clean and spotless all the time. Because between you and me, it will make you, and your children both miserable trying to keep it all together.
But, the good news is that getting yourself on a cleaning schedule can help. This homeschool mom's cleaning checklist is a gamechanger for productivity!
Managing the Homeschool Home
A Weekly Cleaning Schedule for the Homeschool Mom
Don't let the household management duties overwhelm you. Use this cleaning schedule and management tips for Homeschool Moms help!
Home Management Tips for Homeschool Moms:
Make chores part of your homeschool day
Chances are, your children hate cleaning as much as you. Moreover, your children do not see the value in keeping things clean or organized as much as you.
Teaching your child valuable life skills is just as important as teaching them academics.
Having children complete chores teaches responsibility. They learn to appreciate and value hard work. It also helps to encourage an empathetic attitude.
Keeping a clean home is a blessing to those who live in it and those visiting. Do not expect them to be excited about chores, yet don't allow them to grumble.
It's important to remember, and enforce, that there are consequences for our actions. We don't want our children to become ungrateful or allow sin to grow in their lives.
If your child grumbles about doing dishes, then have the attitude that your child just volunteered to do dishes for the next two nights.
A family that cleans together stays clean together
I have found that my home stays the cleanest when we all do chores at the same time. The momentum is up, and it is easy for you to be on top of having your children perform to expectations.
If you like rewards for chores, then that's a great idea. If not, you can also make a game out of it like Mary Poppins- except without the room cleaning itself.
You could do something as simple as a race to clean a room, or the last person done doesn't get the choice of chores the next day.
Remember that it's important to teach our children the value of staying tidy. It speaks to your character, as well as teaches empathy when others are in need of help or assistance, responsibility.
On the plus side, they are more apt to continue to keep tidy and so it's not so much work the next time when you keep it up!
Midday clean up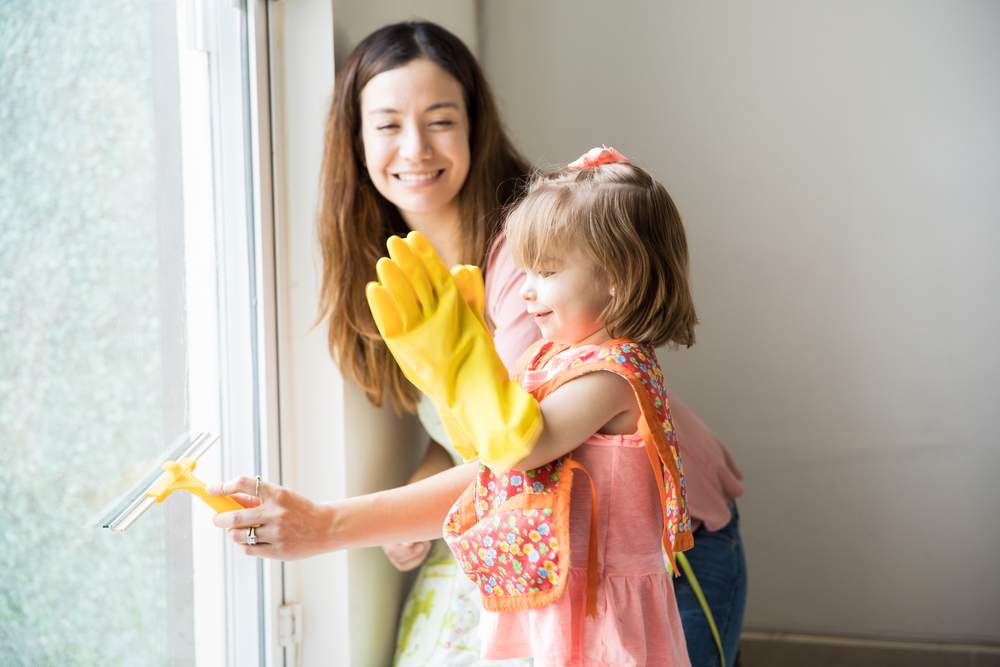 A great technique is cleaning up and organizing in the afternoon just as school is wrapping up. A busy school day takes its toll on the house but nothing that a few can't clean up in under an hour.
Take that time to have your children clear things up while you start dinner. This will make your evening flow much easier.
Creating a routine, or even scheduling clean-up times, make it easier to stay tidy because no one is overloaded with cleaning at the end of the day.
My personal experience
It can be easy for homeschool to be pushed on the backburner when unexpected things happen in life, but how many times have we allowed little things to derail our days?
The housework piled up after a long weekend. Vacation messed up your system. Sickness, field trips, day-to-day.
I had to learn how to stop being a perfectionist. I had to learn how to let my children do things because it's the only way they'll learn. I had to learn how to let them take some initiative.
My children are all under 8, but I would find myself being overwhelmed with everything on my plate, not realizing that they were well capable human beings who contributed to the mess and could also help clean it up. Even if it isn't to my standard.
So they have responsibilities each day; cleaning their rooms, taking out the trash, emptying the dishwasher, cleaning their table space. It helps them to learn ho wot be responsible and it helps take a few things off my plate too!
Because I found myself encouraging my kids to keep practicing those math facts and working on that handwriting, but I wasn't teaching them how to be responsible in a way that benefited them. In the life skills department, I just thought I could do it better.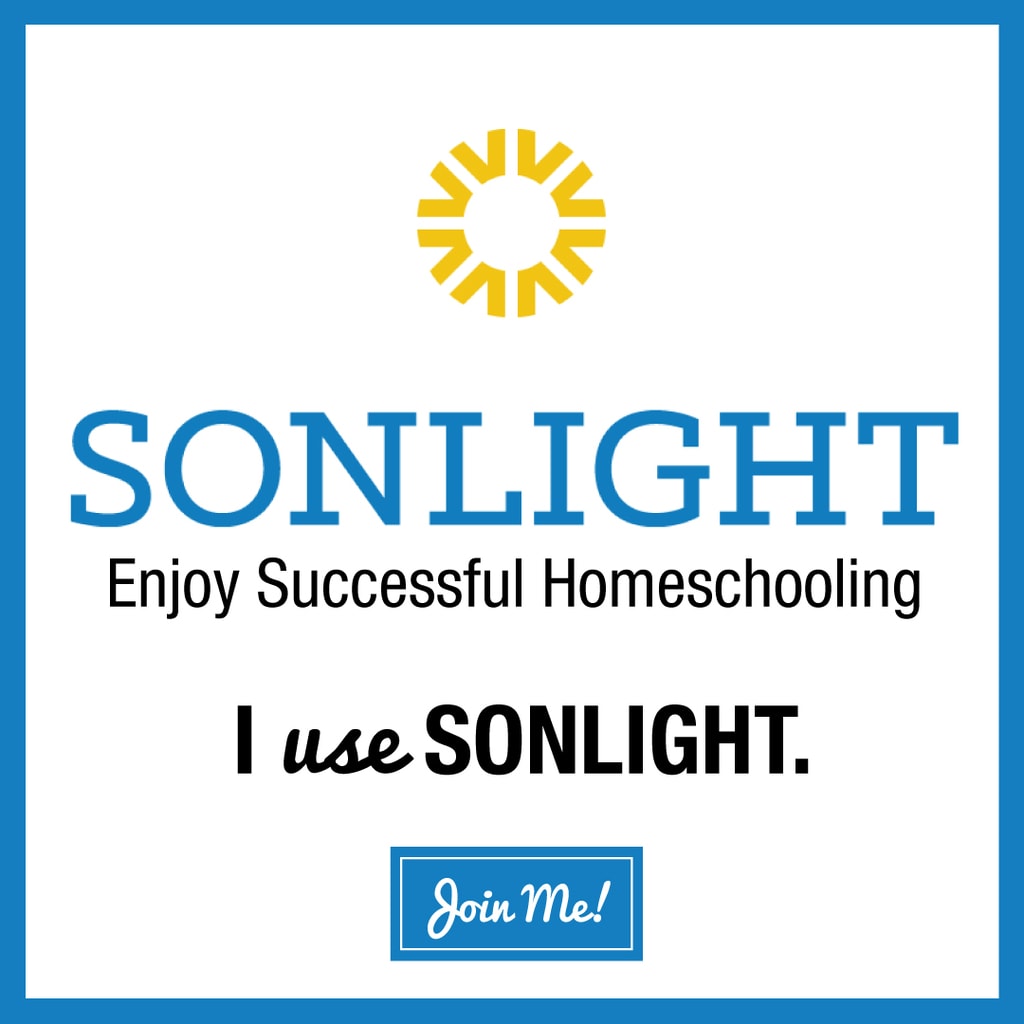 Sonlight has been our curriculum of choice and it's really something the kids look forward to each day. So, I turned to them to help guide this mama once again and here's what I found.
Deana Wood wrote this post about 5 Systems for Putting Your Household on Autopilot and it is great! She gives some great tips on managing your house as a homeschool mama and why it's important to do so!

How My Home Routine Fosters a Peaceful and Productive Homeschool was written by MJ Sherwood and it lays out the benefits of a home routine. And coming from a homeschool mama, you know it's good!

These Homeschool Resources from Sonlight are a true asset. Videos, podcasts, posts, printouts; they really have a treasure trove of information that can help you create that Homeschooler's Home Management Schedule that works for you!
If you're interested in trying out Sonlight, head over to the Sonlight website and get $5 off of your $50 or more order using my referral code: BP20470714
Cleaning Schedule for the Homeschool Mom:
This is just an idea, you can change and/or edit this list to make it work for your own days/month!
Daily
Make the beds
Wipe down the bathroom
Do a load of laundry
Wash dishes or load and unload the dishwasher
Light sweeping where necessary
Straighten up living and dining room
Monday-Vacuum and Dust
Vacuum whole house
Dust whole house
Wash wood surfaces
Tuesday-Mopping
Mop floors
Wash walls, baseboards, and doors (maintenance cleaning)
Wednesday-Bathroom and Bedroom
Clean mirrors
Empty trash
Wash shower curtain, bathroom rugs, bed sheets
Scrub toilet and tub
De-clutter and straighten
KJV, Homeschool Mom's Bible,

Check-Off Homeschool Planner

The Homeschool Mom's Simple

Managers of Their Homes:

Thursday-Kitchen
Wipe down appliances and cabinets
Clean inside of the microwave
Clean countertops
Organize pantry and make an inventory
Clean sinks, drains, and garbage disposal
Friday-Home Office
Dust electronics
De-clutter
Go through bills, mail, and paperwork
Empty trash
Chose a monthly chore: wash walls, clean fridge, clean out cupboards, clean out a closet, deep clean where necessary
Saturday-Family Day and Catch up
Try to use this day to focus on family.
Better yet, make it a family cleaning day or outside maintenance day and then go out and do something fun!
Sunday-Rest Day
Use this day to worship and rest.
No cleaning or working.
Tips/Recap for Getting Your Children to Help Clean:
Don't make it a choice, make it a requirement.
Reward system if that works for you, but don't feel obligated to reward your children for completing tasks that are helpful or teach responsibility.
Nip the grump. Attitudes are a cause for rebuke.
Make it fun! Race against the clock, trade out chores, only use your right hand, only while hopping on one foot.
Explain why it's important to keep our homes tidy.
This is truly the best part. I've prepared for you a printable checklist for you to use!
You can craft your own schedule by filling out the empty Homeschool Mom Weekly Cleaning Schedule template to fit your needs.
Or you can use our suggestions and print the Homeschool Management Checklist Page as it is!
Either way, this printable is free for you to snag!
Now, I have so many questions for you! Tell me how you manage your homeschool days!
Is there anything on this list that we missed? What would you change to fit your schedule?