Tips for Homeschooling Through Unexpected Circumstances
The Fervent Mama uses Affiliate Links. See our disclosure policy here.
This post has been sponsored by Sonlight®. The opinions are my own and have not been swayed in any way.
Homeschooling is a big commitment to take on, and it takes a lot of dedication too! But finding a balance between life and homeschooling doesn't have to be a difficult thing. You have to remember that homeschooling doesn't have to be just structured school days and textbooks.
If that's the way you run your school days, I'm not saying that there's anything wrong with that. But there is so much more opportunity to expand your learning. And structured school days and boring textbooks don't always fit when life hands you lemons, or eh, babies. Which is what brings me here. How do you continue homeschooling through unexpected circumstances?
And the thing is, this answer is different for everyone. There isn't a one-size-fits-all when each family is unique. But there are some things that you can do to make these unusual situations a little easier to handle while schooling at home.
Maybe you're a homeschooling mom who just had a new baby. Maybe you or your child is recovering from an illness. Maybe you had a recent loss, are in the midst of making a big move, or just struggling through life.
Remember when I said that homeschooling is MORE? Well, this is what homeschooling is; homeschooling is cultivating new skills and having new experiences. Homeschooling is making new friends and discovering new ideas. It's a hands-on, life-learning that can happen in a variety of ways.
Tips for Homeschooling Through Unexpected Circumstances
Don't take things too seriously
When we first started homeschooling, I took the school at home approach. I was never homeschooled, and every bit of this journey was new to me, so I thought it was just what I was supposed to do.
But my kids hated it. They hated the pages and pages of seatwork, they hated the repetition, they hated that I was so boring. And if I'm being honest, I hated it too.
In your homeschool journey, things aren't always going to go as planned. Learn how to roll with the punches and you'll find out just how versatile learning can be!
Teaching your kids to cook is math, home economics, following directions, comprehension. Visiting the zoo can be an experience for learning about zoology, geology, geography.
Every day of your life, even the mundane tasks, can be a learning experience if you make it one.
It's hard not to fret about our daily school activities when we're bumped off of our schedules. But it's also so important to realize the perks of homeschooling and the opportunity we have to use the world around us to do so.
Homeschooling through unexpected circumstances may look different than what we planned, but it doesn't have to get you down. Make the most of the opportunities that you have and remember that learning happens best when we don't fret over it.
Try Out a Boxed Curriculum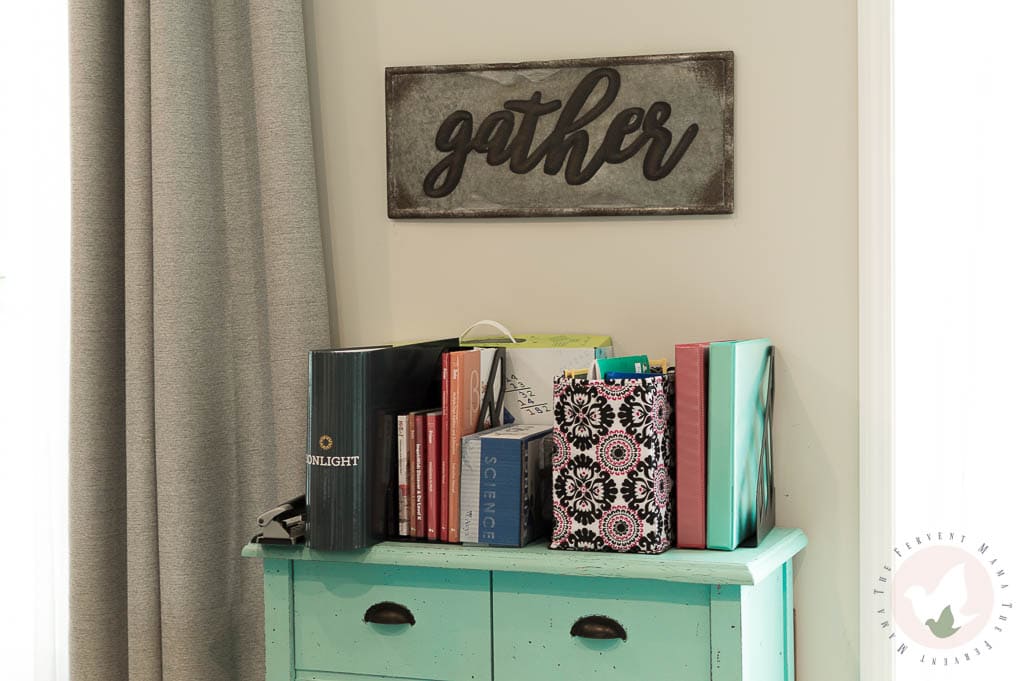 This option isn't a good fit for everyone, but it does provide a good foundation if you're homeschooling through unexpected circumstances.
If you're a new homeschooling mom, finding a boxed curriculum that fits your family's needs and budget can be a lifesaver. Not only does it provide a little structure to get you started, but it also helps you to be accountable, staying on track, and having an outline of the things that you should learn.
If you aren't new to homeschooling, a boxed curriculum can be a breath of fresh air if you're looking to shake up your routine.
This is also a great option if you know that you're not going to have a ton of time to piece together your own curriculum, or if you're expecting a few hiccups throughout your homeschool year (travel, family planning, acute sickness, being a caretaker.)
It certainly isn't your only option, but it is a great one!
Personally, I thrive on an actual put-together homeschool curriculum. Which is why I went on a hunt to find a box curriculum that fit our families needs. Leaving Abeka for Sonlight® was one of the best things I could have ever done for my family, for so many reasons.
Sonlight® provided me with that little bit of structure that I need but with much more opportunity to enjoy learning by giving me choices. Now, we're learning through books and activities- actually loving our school days.
Read a Book
Do you know how much learning can happen from reading books? Simply reading a book is learning!
I think sometimes, especially as homeschool parents, we try to make things more complicated than what they need to be. We forget that learning is fun and easy when we take the time to make it that way.
Maybe you're bed-bound or have a child who likes to read or are traveling, or just need a few minutes for one on one time with your kiddos, books are a great opportunity to do that.
One of my favorite homeschool activities, that can be done from nearly anywhere, is reading. Children, and adults alike, can benefit from spending time reading.
Amazon has a great Audiobook option called Audible, as well as their Kindle books, and the library is always a good choice (and teaches children responsibility!)
However, my favorite children's books have come from Sonlight®'s program. After trying out a couple of different options that just didn't work for us, and also taking a few tests to determine what curriculum may be a good fit, I knew that I wanted something fun and versatile.
Sonlight®'s educational philosophies that encourage natural learning and language are what really pushed me toward their program.
I hold the education of my children in my own hands, and thinking about that grave task can be quite daunting.
But, having a program where we use books (and I don't mean textbooks) to learn makes that intimidating task much more attainable.
Great books, filled with amazing words, that we can all understand and easily apply to our lives; completing daily puzzle-piecing tasks, problem-solving exercises, understanding powerful perspectives, and completing hands-on engaging activities- learning is so amazing!
My children can't wait to read our books each day, read them in their free time, and even ask to read more for bedtime story-time!
Whatever juju magic it takes to put these lists together, somebody give those folks a prize. In all seriousness, most days, I'm really lucky if my 7-year-old doesn't have them read before we have the opportunity to do read alouds together!
Watch Some TV
At first, I wrote down "visual learning", but who am I kidding, I mean television. While I am a HUGE advocate for limited screen time, technology is truly a gift when you use it right. From series, documentaries, based on a true story, inspired by- there is so much to learn!
If you have a TV in your room or are willing to move one to your schoolroom, you can use visual learning with videos and documentaries to enhance your homeschool lessons.
Between our smartphones, tablets, DVDs and streaming services, this is a great
You can use Youtube, Netflix, Hulu, or Amazon to find a wide variety of educational movies and documentaries. A quick google search will reveal options for nearly any topic you want to teach your child.
After the video has ended, have your children tell you about what they learned, summarize the video, apply it to their own lives, complete a project, or even write a paper about the video.
Traditional Teaching
Until we started with Sonlight®, I didn't even understand that schooling multiple children with this traditional teaching method was an option.
I should say that while you can absolutely achieve this without the Sonlight® curriculum, they sure do make it easier to do and understand. They literally lay it all out for you. And for someone who didn't understand how I would be able to teach the same history or Bible lesson to my 7-year-old as my 5-year-old, I accomplished the task with ease.
By using books that include biographies, historical fiction, and other genres, as well as having my comprehension questions, activities, and plans laid out for me, it was actionable and attainable.
A big ministry move, a big family move, another baby- all of those things played into our year and I wasn't sure how I was going to do it all. Sonlight® was my answer.
If you're limited on time, opportunity, or energy (eh, what mom isn't?), then schooling multiple ages at once using this method is a great way to be able to complete your school days when homeschooling through unexpected circumstances.
If you're interested in trying out Sonlight, head over to the Sonlight website and get $5 off of your $50 or more order using my referral code: BP20470714
Old Fashioned Workbooks and Unit Studies
While workbooks, lapbooks, and unit studies may not be every family's favorite homeschooling method, nearly any book work from any curriculum you choose can be done with little instruction, sitting next to mom, in a car, or packed away for a trip. A lap desk or even a simple clipboard can be a great way to knock out provide a stable workspace.
Even young children can benefit from written work. Whether it is basic handwriting, learning worksheets, or fun fine motor practice you have plenty of options for even the youngest homeschoolers that may not be developmentally ready for classic book work yet.
There will be plenty of time for hands-on learning and field trips when you're days return to normal. Knocking out bookwork while you are homeschooling through unexpected circumstances leaves extra time and opportunity for fun stuff later.
Play Games
I promise I'm not crazy when I tell you about this one. If you haven't used games in your homeschool yet, then where have you been?
Games of any kind can teach our kids some valuable lessons about team building, sportsmanship and problem-solving. But board games and technology are also great additives to your routine to encourage STEM, critical thinking, empathy, and so much more!
Make your school days fun by encouraging thinking and strategy games to pique your child's curiosity and challenge them in new, fun, and exciting ways!
Ticket To Ride – Play With

Catan The Board Game

Monopoly Classic Game

Hasbro Guess Who Classic Game

Homeschooling is an opportunity that requires both confidence and faithfulness. Confidence that you are doing what's best for your child, and the faithfulness to learning something new and exciting each and every day.
But one of the best things about homeschooling is that you determine how that happens because it's your choice.
Have you found unconventional ways to continue homeschooling through unexpected circumstances? What important tips can you share with others?