How To Organize Sonlight Curriculum in a Small Space
The Fervent Mama uses Affiliate Links. See our disclosure policy here.
This post has been sponsored by Sonlight®. The opinions are my own and have not been swayed in any way.
I'm not a scheduler. Honestly, I really, really wish that I was. I can put one together like a boss, but meh. I always fall short in following through when I give myself one.
But what I can do is put together a solid system. I can talk homeschool all day long. I can help other follow through on their schedule – but when it comes to following through for myself. I fall a little short, to say the least.
I like to blame it on my crazy life (which it is), or even my crazy lack of a schedule (again, is), and sometimes even all these kids I have (four is a lot).
But the truth of the matter is that I don't really like schedules. But I do like organization.
When everything has a place and it's neat and put together, I feel so proud, so accomplished. Which is why a solid homeschool organization system is key to keeping me on track- not the schedule.
I'm sure a few of you can relate when I say that we school at the kitchen table. I'm seriously considering moving my girls to one bedroom to give us a school room, but all these kids and not enough space- that's another story.
Thus, how do I keep my homeschool organized in a small space? Even more so, how do you organize a book based homeschool curriculum like Sonlight®?
How to Organize Sonlight® Curriculum in a Small Space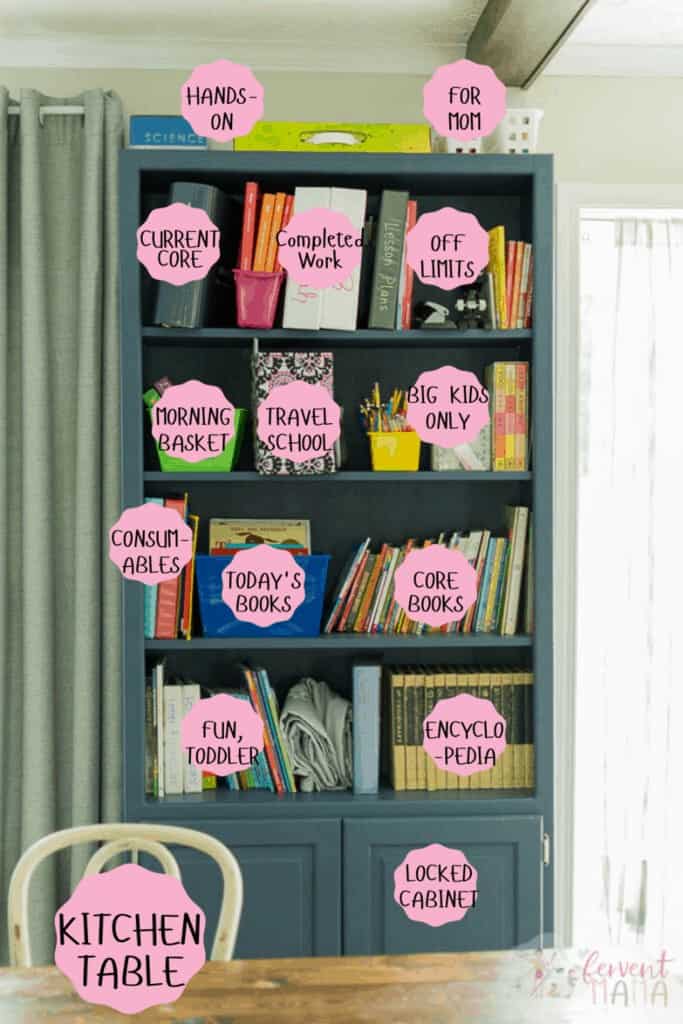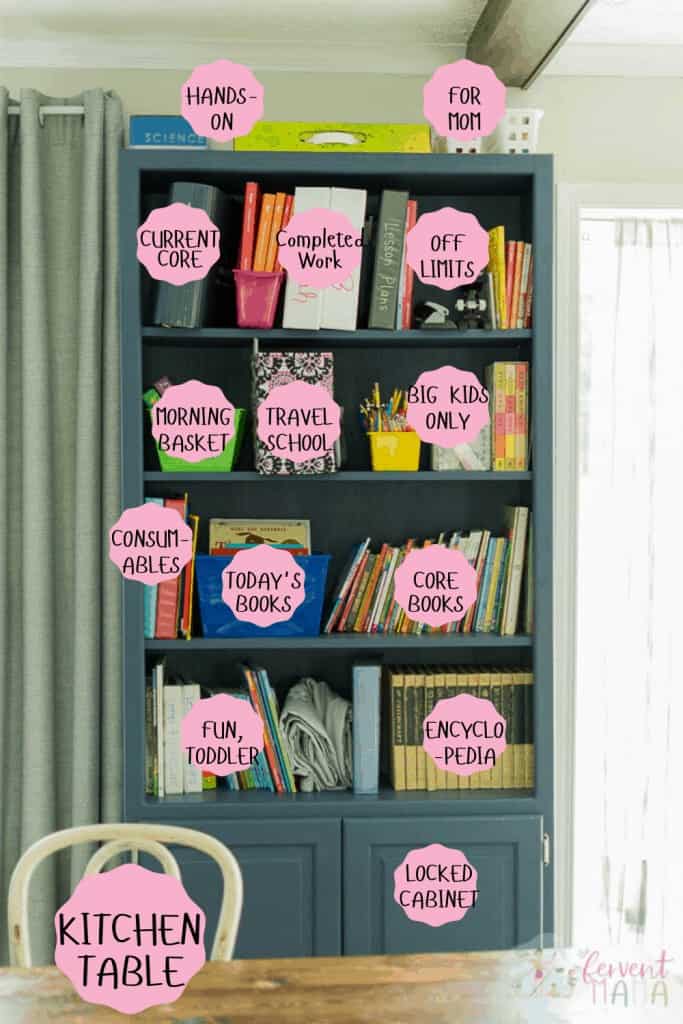 A few years into our homeschool journey, I knew we needed a change. I had begun to understand what all this homeschooling was and how we could make it work for our family dynamics, and I knew what we had going wasn't the best.
I did lots of educating myself on learning styles, teaching styles, homeschool methods, homeschool schedules, homeschool curriculums. I took the tests, I looked at the examples, I downloaded the samples. And I chose what I knew would work for my family as a whole.
New to homeschooling? Interested in homeschooling? Just getting started? You may like this session I did from theHow to Homeschool Summit: Things I Wish They Would Have Told Me BEFORE I Started Homeschooling.
My kids love reading, they are fast learners, don't need a lot of repetition, get bored with too much seat work, like independent learning but in a family atmosphere, Christian based, but worldview insights- Sonlight® was my top option.
Boy can I tell you that I have not regretted that decision! My kids beg to do school each day and spend hours with their noses in books. We have more library content that I know is fun, clean, educational, and on their level!
The only thing that I was worried about when it came to choosing Sonlight® was making space for it all.
We have an average sized home, but no school room. We school together, my oldest two with the toddlers under feet. With Sonlight® being reader-based, I knew we would need lots of space to organize and store our books!
1. Utilize Tall Shelving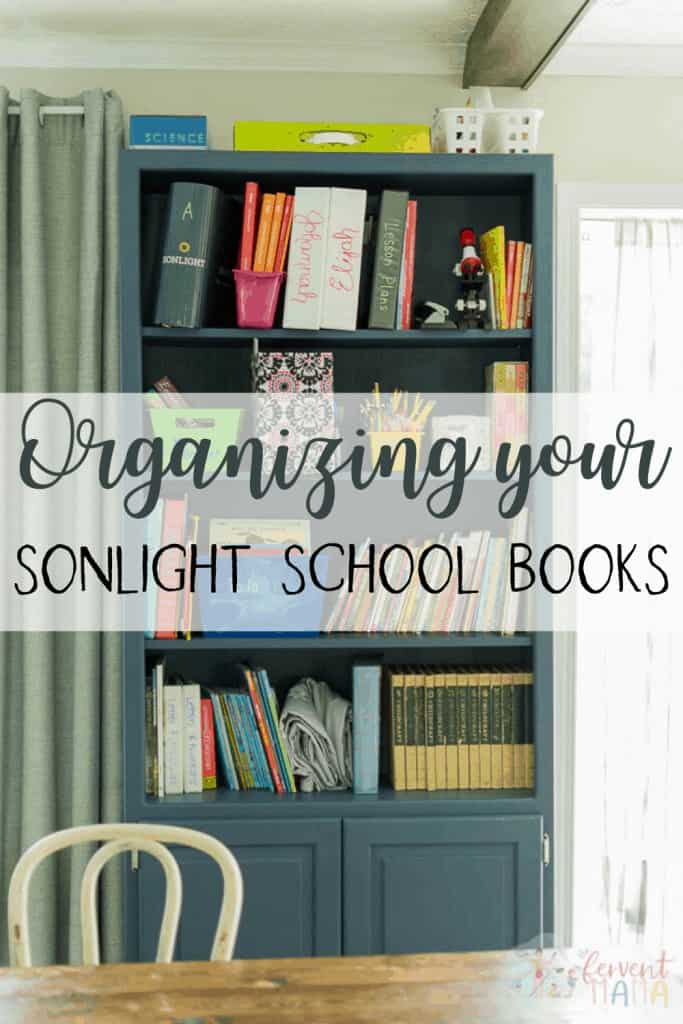 This particular boxed curriculum has a lot of books, a lot. So when you organize your Sonlight® materials, try to think of how to make the best of your space!
My bookcase is only about a foot from our ceiling. This gives me the opportunity to take up much more vertical space, than horizontal.
This simple trick helps create an illusion that rooms are bigger than what they are because it seems like you are using less space, when you're just utilizing space that would otherwise be empty!
Up top, I like to put things we don't use often, or take up a lot of space. We love our manipulitives from Math U See and use them daily, but the size of the box causes it to hang off the shelf so we place it on top. Along with that we have our Science Kit and other hands on materials.
On the top shelf, I put my Sonlight® Binder, which I label by Core. Along with our by-grade consumables and teaching materials, lesson plans, a binder of completed work for each child and other parent-led books.
On the next shelf down, I put our Morning Basket and my "on the go school bag". It's a foldable file folder that I throw the material we need in if we're heading out. As well as our writing bin (colors, color pencils, expo markers, pencils, portable pencil sharpener, scissors, glue sticks), and my favorite illustrated book set.
After that, we have a binder of loose leaf paper, a wipe-board for each child, phonics material, and wipe clean pockets. Then there's the "Todays Books" bin and all of our core readers.
Finally, the last shelf includes lots of great books we may find useful throughout the year. Mostly educational, some books we've collected over the years. Sometimes it's just little books to keep the babies and toddlers busy while I teach.
Inside the doors we mainly just use as storage. There, I have other consumables that we don't use daily, or that we may not use, books we've completed over previous years, teaching tools, etc.
Don't forget that you can also stack books upwards, laying on their sides with the titles facing you. Another trick to utilize more horizontal space.
2. Use Baskets and Bins
When your whole curriculum rallies around books, like Sonlight® does, you definitely don't want to hide any of those titles, but you also want to make the best of your space.
Deep shelves can leave a lot of unused space either in front or behind books, so using baskets or bins can help you to organize Sonlight® curriculum.
I get these cheap bins from the Dollar Tree and use Chalk Markers to write on them just in case I ever change my mind about what they say or the purpose they serve.
Inside my Morning Basket, I include our Bible books, devotions, and easy reading material to get our brains moving.
In our "Today's Books" bin, I have the books that we will be reading that day, or week. So we don't have to waste any extra time looking for titles in the middle of the school day. If I had more than one Core that we were doing, I would have a "Today's Books" bin labeled for each core/child.
3. Put Things Away
Put away anything you don't need consistently, or that may be a hinderance for learning. If you have littles, don't forget to put anything that may be a hazard safely away. I really love this child-safe cabinet locks.
By designating a space for everything, you know where things are and you never have to guess where things are or question where things go- keep this in mind when planning to organize your Sonlight® curriculum. This can be especially important for independent homeschoolers.
Little items, puzzles, paints, bricks, gadgets, tinker toys- all things that can get messy. If you put them away, there is less opportunity for them to be a distraction or get mixed up.
But, putting things away doesn't mean that they are inaccessible. It just means that they have a designated space and time for use.

4. Put Things Back
This is a simple homemaking hack, but by immediately putting things that you're through with away helps you to stay organized and keep things neat.
When you're finished with your books, have your children be responsible for putting them back in the correct area or space. This encourages them to take a little initiative in keeping things tidy and teaches them to care for their own things.
5. Make It Easy
You won't keep it up if it's too complicated and your children won't be interested if they don't understand it. So, when planning to organize Sonlight® curriculum, be sure that your ideas are sensible and easy to follow.
For example, I made sure that our Morning Basket and Today's Books bins are two different sizes and colors so that there is no confusion. Further, I place each bin on a different shelf and position so that they still don't get confused.
Other than that, our year of books are on the shelf in no particular order. While I'd love to organize our Sonlight® books in a better way, my kids love to grab and go. And I feel like making any kind of system would discourage them from reading-which I definitely don't want to do.
6. Create a Storing System
I love a large library of books, and we're acquiring that with Sonlight®. But, I also have more little schoolers coming up so I want to be sure that I take care of those books that we will need again. And sometimes my kids don't do that.
So, when we finish a core I plan to store my books and teaching materials in airtight containers so that they stay fresh. If you have indoor or climate controlled storing, this may not be necessary. But, I don't see us having that much store-space over time.
By storing our books, this will also give my littles their own Sonlight® Curriculum unboxing experience!
Besides that, having a solid system to store your materials also helps them to stay well-kept and you to keep an orderly school space.
If you don't have schoolers that will be using the material after you're finished with it, consider selling the curriculum on homeschool resale sites or Facebook pages. Amazon also has a buy-back program where they will purchase gently used books and more!
One of the things that I love about Sonlight® is that they user REAL books to teach. Which means the book from your core subjects are multi-purpose. You can build your own library or resell them as just plain old, non-curriculum specific, books.
A few of our favorite homeschool materials, gadgets, and items from Amazon:
Do you have any tips, tricks, or hacks when it comes to organizing your homeschool books and materials? What about tips specifically for organizing Sonlight curriculum?