It's the most wonderful time of the year! We have a very small home, so I don't get to pull out decorations for every season because we just don't have the room to store them. But one thing I make sure to have space for, Christmas decorations. And inside those boxes in our little attic, are some of my most prized possessions.
Placed strategically around my home are five Christmas Nativity Sets. Each of them is so different from the other, every one has a different story, and all of them hold a special place in my heart. To me, there's no better way to decorate for the celebration of Christ's birth than with the scene itself.
I got a little tired of asking my kids to put baby Jesus back into the manger, so we opted to get them their own little miniature versions of the greatest gift of all. These Kids Nativity Sets will be a huge hit with your little ones too!
I don't hold on to many things, my husband always gets mad at me for throwing things away (he's a borderline hoarder), but I do have a hard time with sentimental things. Which is probably why my collection will continue to grow, and never decrease. Soon we'll have a Christmas Nativity Village.
20 of the Best Kids Nativity Sets
Character Nativity Sets
Fisher-Price Little People A Christmas Story
Veggie Tales Nativity Set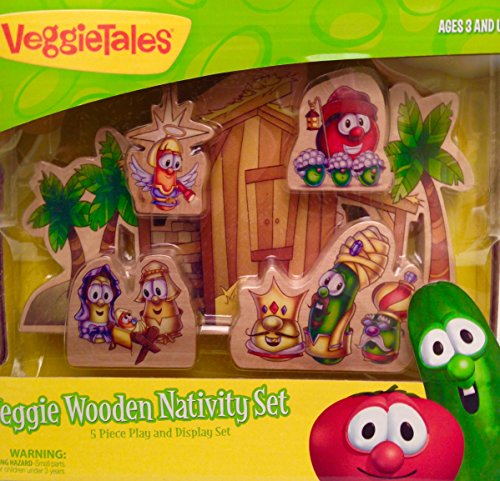 Veggie Tales Wooden Nativity Set (00516)
Peanuts Christmas Nativity Deluxe Figure Set
I wasn't able to find a large assortment of character nativity sets, but the Veggie Tales Nativity Set is huge in our house. Not only do we have 800billion Veggie Tales Videos, but the kids watch JellyTelly on repeat all.day.long. Besides that, Peanuts is always a big hit!
Wooden Nativity Sets
Melissa & Doug Classic Wooden Christmas Nativity Set
Timy Wooden Christmas Nativity Set for Kids
O Holy Night Wooden Nativity Set – 14-piece
Olive Wood Children's Nativity Set (12 Pieces Set) (3 Inches)
Children's 10 Piece Nativity Scene by Clever Creations
Children's Christmas Nativity Gift Set
Deluxe Wooden Nativity Play Set – 14 Pieces!
Wooden Nativity Sets are a lot easier to come by, come in a variety of prices, and are sure to be durable for years to come. I love that these can be used for any ages, and can grow with your child too! You can choose something a little more traditional or based on your child's age.
Nativity Game
The Christmas Star from Afar Nativity For Kids
This is by far my favorite Kids Nativity Set option and tradition. A few years ago, we had the chance to chat with the creator of Star From Afar, and even wrote about them when we talked about Christian Alternatives to the Elf on the Shelf.
Nativity Plush Set and Finger Puppets
Talicor Plush Nativity 11 Piece Play Set
Christmas Nativity Set – Interactive Fabric Nativity Scene
Felt Holy Family and Three Kings Plush Christmas Figurine Nativity Set
Fabric Christmas Nativity Set with Wise Men & Animals
itty bittys Nativity Set Stuffed Animals Itty Bittys
Fabric Nativity Set for Children By Pockets of Learning
Shepherd On the Search Activity Set
Nativity Bag by My Growing Season
If you have young children or children with active imaginations, this may be the way to go! These options help your child to explore and become more interactive with the set itself by putting together little puppet shows. Have them "act" out the story of Jesus's birth!
Out of all 20 kids nativity sets we've listed, my top two favorites are the Veggie Tales Set and The Star From Afar. Although, you really can't go wrong with any of these great options! Do your kids have their own nativity set? What kind did you go for?