Christian Alternative to Elf on the Shelf: Star from Afar
The Fervent Mama uses Affiliate Links. See our disclosure policy here.
I put up my Christmas tree today, and the Thanksgiving police are at my door as I admit it. But that's ok because I think it should be Christmas all.year.round. And along with Christmas is this cute alternative to elf on the shelf!
Oh, but don't worry – I haven't looked over Thanksgiving! I just want to celebrate Christmas a little longer. So along with my Christmas tree, I've also started all the Christmas decor. Which means I've already got all 4 of my nativity sets up, and the kids are just as excited this year about our Star from Afar as they were last year.
New to Elf on the Shelf? Here's a quick summary of what it is.
The Elf on the Shelf: A Christmas Tradition is a children's picture book published in 2005. It tells the story of Santa Claus' scout elves who are sent to watch over children and report naughty or nice behavior back to Santa each night.
According to tradition, the elf occupies a different location in the house each morning, but must move before its human occupants see it.
The book describes the elves' purpose and their personalities in depth, but never actually mentions "Santa Claus" or any other references to specific elements in American Christmas tradition.
Why Some Families Don't Agree with Elf on the Shelf
Some families think the whole idea of an elf "moving" around at night and "found" in different positions the next morning is just straight up odd and unusual, to say the least. It's creepy.
Not only that, but parents who participate in the whole elf on the shelf movement usually have little kids. And these little kids actually believe this elf is real – that it really did move to a different position at night!
Each to their own, but our family doesn't believe in putting that kind of power in an elf or telling our kids to believe a stuffed animal really moves by itself in the middle of the night.
If that were the case, if we did tell our kids to believe this stuffed animal really did move on its own accord, then how would I ever explain to them that it's only "this" stuffed animal? Won't they think every stuffed animal, then, is alive and moving? Their logic wouldn't be unreasonable!
Believe this but don't believe that? I don't know about confusing the kids like that. They're already trying to figure out their place in this big world and I don't want to fill their head with nonsense. I'd rather fill their heads with things with purpose.
Such as the miracle of Jesus. The wonders of the universe and how God created it all in 7 days.
Things like that. But not about an elf spying on them day and night to take note if they're naughty or nice.
The idea of any stuffed animal spying on me creeps me out! I won't expose my children to something as ridiculous and ill-natured like this.
The only authority they need to be aware and respectful of is me and Dad, and God.
Keep reading to know my thoughts about Santa Clause…!
PUBLIC SERVICE ANNOUNCEMENT: We don't do elf on the shelf. Don't get all crazy on me, but you've got to know about this Christian alternative to Elf on the Shelf.
This brings me to christian alternatives to elf on the shelf! You can find a lot of ideas similar to elf on the shelf by doing a quick google search or even an Amazon search.
Some alternatives to elf on the shelf include:
Walk the Wisemen – which brings the Bible to life!
Finding Jingle Bells – kids hunt for and find jingle bells throughout the month of December!
Mary the Advent Angel – this is an angel that delivers messages of scripture each morning, similar to like a daily devotional
There's many more out there, but just beware… Some alternatives to elf on the shelf are just like elf on the shelf in disguise.
Christ in Christmas
Listen…to be honest, My Mr. isn't too fond of the whole Christmas tree idea. A few years ago we decided that whether we put up a tree or not, we would begin a tradition of placing our presents under one of our nativity sets. Reminding our children that it isn't all about the lights, Christmas trees, or presents but that we give gifts to symbolize the wise men giving gifts at Jesus's birth.
I get flak about this all the time, but we don't do the whole Santa Clause thing. *gasp* We don't teach our kids that a fat, jolly, man comes sneaking into our house handing out presents. Because I mean, kids aren't supposed to take stuff from strangers.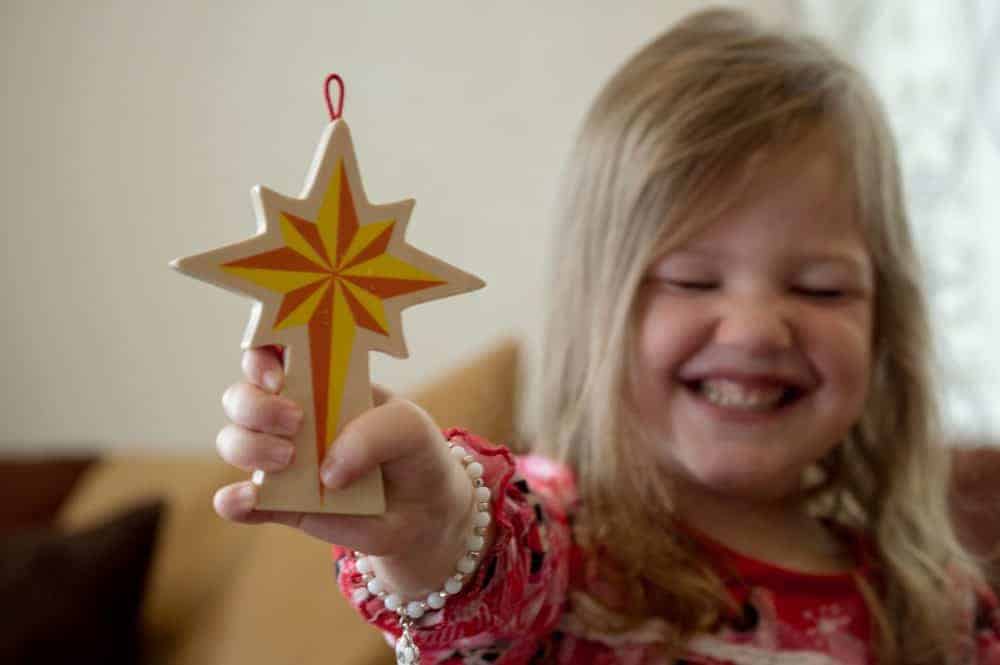 Ok, I'll be serious, we choose instead to try to instill as much Christ in Christmas as we can. (If you do Santa, that's great for you, we just choose not to.) Which is why I love Star from Afar so much. Games, Christmas, Jesus- and these are a few of my favorite things. So if you're anything like us, then you'll love this Christian alternative to Elf on the Shelf.
The Christmas Star from Afar Advent Calendar – Christmas Advent Nativity For Kids – Great Christian or Catholic Gift For Children
The Christmas Star from Afar – DARKER SKIN TONE – Christmas Advent Nativity For Kids – Great Christian or Catholic Gift For Children
The Christmas Star from Afar – LA ESTRELLA LEJANA DE NAVIDAD – Nacimiento de Adviento Navideño para Pequeños
Star from Afar comes with the cutest little wooden nativity set, which is genius because kids can't break it, and a storybook that tells about Jesus's birth. So here's how it works,
"The Christmas Star From Afar" encourages children to go on a hunt for their Star, similar to that of the Wise Men. Everyday the Star is hidden and the children participate in a fun hide-and-seek game to locate it. Once they have found their Star they move all Three Wise Men to its location. On Christmas morning the Three Wise Men reach their final destination when the Star is found at the stable with the newborn baby Jesus. The activity book includes a wooden Star, a full wooden nativity scene that matches the artwork of the book, and optional scripture to use throughout the month.
This is our second year having Star from Afar, so when Natalie contacted me this year saying that there were new items, I was so excited! She extended the stable animals selection and also introduced scripture cards, which I love!
There's a ton of them, so options on how to use them are endless. I've thought about using them as gift tags or tracks, or even adding them to our new Star from Afar tradition! These nativity sets are just some ideas similar to elf on the shelf you can use!
Christian Alternatives to Elf on the Shelf: Star from Afar
Star From Afar is just a cute nativity set and is the perfect alternative to elf on the shelf. It will instill the true meaning of Christ in Christmas and have your family focus on the purpose. So if you're looking for alternatives to elf on the shelf, check out Star From Afar!
What traditions do you have to keep your kids eyes on Christ during the crazy Christmas holidays?