Why Biblical Worldview Homeschooling is Important for Christians
The Fervent Mama uses Affiliate Links. See our disclosure policy here.
So what is a worldview anyway? Every worldview, be it Biblical or non-Biblical, aims to answer at least three of these questions:
Where did we come from?
What is wrong with the world?
How can we fix it?
As a Christian mom, I believe that it's important for Christians to know and have a solid understanding of a Biblical worldview and it's especially important to know how to defend it.
With so many families choosing to homeschool this year it's essential to have a solid foundation and as parents, it's our job to bring our children up in the admonition of the Lord according to Ephesians 6:4.
Why Biblical Worldview Homeschooling is Important for Christians
Head to the end of this post for a Homeschool FREEBIE!
Christ-Centered Education
The number one way to incorporate a Biblical Worldview into homeschooling is taking every opportunity to point our children to Jesus. And I mean every opportunity. Because let's face it, we all fall short and are in desperate need of a Savior!
Whether it's admiring God's creation during a science project or practicing repentance and forgiveness when siblings get in a disagreement. Christ is at the center, always.
One of my favorite ways of keeping Christ at the center is incorporating prayer into our day as a conversation, and not as a mantra by teaching our children that Christ is our ever-present help (Psalm 46:1) and by giving thanks to the Lord (Psalm 136:1).
Providing a Christ-centered education through Biblical worldview homeschooling can be a life-altering experience for the whole family because you're growing in your knowledge of God, together!
Discipleship
Education is a form of discipleship and is a big part of the process of preparing our children for life and eternity. For us, education and discipleship go hand in hand because it is the relationship between parents and their children.
God gives us clear instructions for this model and how we are to raise and educate our children in Deuteronomy 6:6-7 which says:
"And these words that I command you today shall be on your heart. 7 You shall teach them diligently to your children, and shall talk of them when you sit in your house, and when you walk by the way, and when you lie down, and when you rise."
As Christians, I believe that God calls parents to educate our children and He places an important emphasis in His Word. When we disciple our children, we take into account every area of their life (including their mind, emotions, spirit, body), not just what they are learning in a textbook.
Jesus tells us in Matthew 28:19 to go out and make disciples, and Biblical worldview homeschooling makes that possible for your own family. The most important disciples in your life are sitting at your kitchen table.
Bible Saturated
The Word of God is essential, without a doubt, and is the one non-negotiable that we integrate into everything, everywhere. We set God's truth before us, daily in our homeschool by integrating the Bible into their curriculum, doing catechism, morning basket bible study, etc.
It is our hope and prayer that the truth of God's Word is integrated into their hearts and lived out in their lives.
When it comes to choosing a bible-based curriculum, keep it simple, do your research to make sure that the curriculum lines up with what you believe. The last thing you want to do is choose a curriculum that has an anti-biblical worldview and philosophy. Colossians 2:8 says:
"See to it that no one takes you captive by philosophy and empty deceit, according to human tradition, according to the elemental spirits of the world, and not according to Christ."
God cares about this very much and we must be careful to protect our children from the teachings of the post-modern, Cultural Marxist worldviews that are inundated in today's culture.
With Biblical worldview homeschooling, we're able to consciously provide a good, and sturdy foundation that is built on the knowledge of God.
Family Worship
A Biblical worldview homeschooling that leaves out a worship element leaves out the opportunity to teach your children how to revere and honor God. Worshiping as a family at home is by far one of my favorite times of the day.
One reason being is that my husband leads us in family worship and the other reason being is that we get to nurture our children in daily family devotions to God.
Our family worship time typically looks a little bit like this:
Prayer
Review catechism questions
Read Bible verses
Read devotional
Listen to 2-3 worship songs or hymns
Prayer
When we stick with a consistent routine, things tend to flow nicely but we do give ourselves grace for those days when we get sick or when little bodies can't sit or stand quite still. A great thing about family worship is that it has been great training for church because we integrate our entire family into the church service instead of taking the kids into their separate classes. Doing this has been a great blessing to our family.
We've found that homeschooling our children from a solid Biblical Worldview is the best way that we can give God glory as we educate our children. As we disciple our children in God's Truth, we pray that God works in their hearts so that they may be equipped and complete for every good work (2 Timothy 3:17).
If you are considering homeschooling your children with a Biblical Worldview, I encourage you not to be shaken by what others may say or by what the world around us speaks as their "truth". I pray that you remain steadfast in heart and in boldness as you embark on your homeschool journey.
How about a freebie to help you on your way to Biblical Wordlview Homeschooling?
This printable is only available for a limited-time thanks to Kimberly at Homegrown Motherhood. Check out the product for more information regarding download.
This post was written by….
Kimberly Nicole Steenbergen, M.S. is a wife, homeschool mom of 3, blogger, coach, speaker, and online course creator. She was born and bred in sunny Southern California but now enjoys true Southern living in the country of East Tennessee. With a background in special education and ABA therapy for children with Autism, Kimberly gave up her career and pursued the calling God has for her in the home according to Titus 2. Kimberly is currently in training to become a Certified Biblical Counselor through the Association of Certified Biblical Counselors and is passionate about equipping homeschool moms with Biblical truths and tips on balancing marriage, faith, homeschooling, homemaking, and building an online business. You can learn more about Kimberly on her blog Homegrown Motherhood..
This article is a part of our How We Homeschool Series; a collection of content from full-time, veteran homeschoolers sharing their own experiences on the versatility and diversity of homeschooling. You can read more about the series, and see all of the content, by clicking the image below.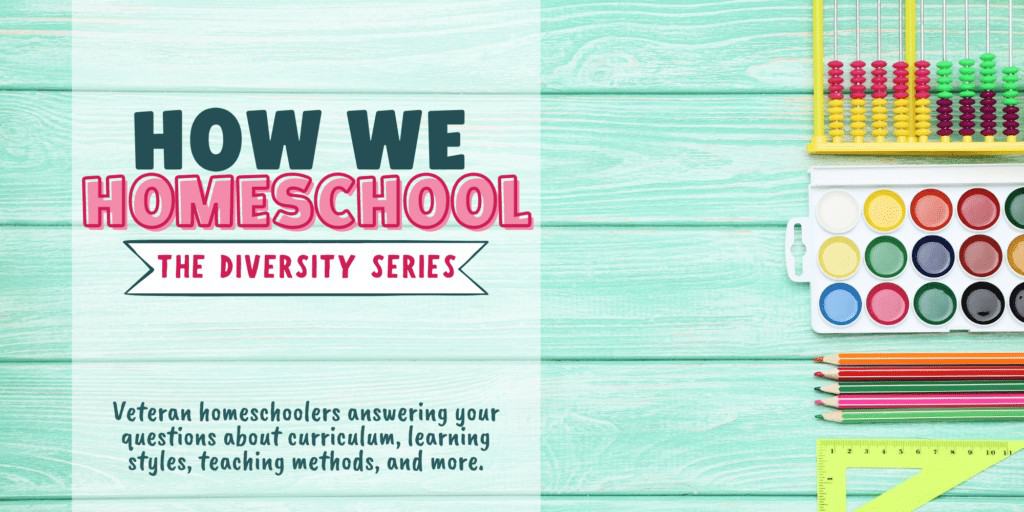 A Special Thanks to Our Sponsors

More from the how we homeschool series
how we homeschool series Giveaways