The Ultimate Guide for Finding Modest Bump-Friendly Clothes on Amazon
The Fervent Mama uses Affiliate Links. See our disclosure policy here.
I can't lie. 80% of my clothes come from Amazon.
If this is a surprise to you, you're surely missing out on some massive deals on super cute clothes. Especially if you've been searching for deals on modest clothing- which is so hard to find.
Amazon Prime continually saves my bee-hind when it comes to motherhood. And they don't fail me when it comes to dressing this mom-bod.
In all honesty, I have this love-hate relationship with maternity clothes that just plagues me. I know I can't be the only one that dies a little on the inside when I think about buying another maternity outfit- maybe a little exaggerative there.
I mean, I love that they are usually pretty tailored to a pregnant body, but I hate that they're also so "seasonal." I mean, nobody wants to spend THAT MUCH money on clothes that you can't wear postpartum.
So, with this being my fourth, and possibly last, pregnancy- I didn't want to waste my money again. I needed modest bump-friendly clothes that would work throughout my pregnancy, and that I'd still feel comfortable in after birth.
If you're like me, your body has changed significantly with each pregnancy. Meaning, those same maternity pieces you bought last time- if they're still "in season"– probably don't fit quite right.
Don't even get me started on how tough it is to find Modest Maternity Clothes in general.
Just completely ditch the maternity-wardrobe-hype and find some modest bump-friendly clothes and come back and thank me when you do. It's a life-changing experience.
Modest Bump-Friendly Clothes on Amazon
One key to making "regular", or non-maternity, clothes bump-friendly is making sure that they're long enough and stretchy enough.
You have to remember that you're growing in the belly region, so you may need to make a few adjustments to ensure that everything stays covered based on your own convictions.
A few things to think about; if you're wearing a dress it's getting shorter around the front, if you're wearing a skirt it's gonna get longer in the front if you push it under the belly, and if you're wearing a tunic, well, most of the time those are pretty good to go.
Toward the bottom of this post, we have some general tips to help you when shopping for clothes on Amazon- some sellers can be finicky with sizes. However, under each general shopping tab, we're also sharing a few more tips for making regular styles bump-friendly!
Modest Bump-Friendly Dresses on Amazon
Here are a few tips specifically for buying bump-friendly dresses; look for more stretchy materials, swing and empire work best, usually size up one to be sure you have "room to grow."
These first four modest bump-friendly dresses are my personal favorites, I've purchased all four and LOVE them for every-day wear.
I love a good t-shirt dress and this one does not disappoint! Don't let the droopy model look take you back a step! I promise that it's really fab on. Be sure that when you head to this link to see the dress, you look at the reviews/photos and see all the cute girls modeling their dresses!
✅ If you can find this dress for under $30, it's a steal!!
A swing dress that has a good length is ALWAYS in style. I love that this one comes below my knee- and I'm a tall girl (5'7″.) It has a U-hem so it's super cute tied and I wore it to an amusement park for vacation and it was so comfy! Be sure to size up in this one to give room for your growing bump!
✅ If you can get this dress for under $25, don't pass that price!
This dress is made by the same company as above. I've purchased from them before (I have the swing dress in maroon)
and they're a really great brand and company! This one with the ruffle adds a little flair!
✅ If you can find this dress for under $20, scoop it up!!
I know that these four beginning dresses are super simple, but as a mama, that's exactly what I need. Dresses that can be dressed up on down, can look completely different with a sweater or vest or kimono. Things that are easy to move in. You get me, right?
A few more "dressy" styles that would be perfect for pregnancy and postpartum!
Boho Dress

Floral Print Retro Dress

Cotton Long Dress

Summer Sundress

Modest Bump-Friendly Skirts on Amazon
Here are a few ideas specifically for buying bump-friendly skirts; look for more stretchy materials, foldable waists and stretchy elastic are perfect, be mindful of length.
These skirts come in multiple colors and prints, be sure to click the photos/links below to see!
Knee Length Flowy Skirt

Fold-Over Maxi Skirt

Elastic Waist A Line Midi

Chiffon High Waist Skirt

Modest Bump-Friendly Shirts on Amazon
Here are a few tips geared toward buying bump-friendly skirts; tunics work best, make sure you get loose, you don't always have to size up when looking at tunics!
Amazon also has a "Similar Items" tab under each product that you look at. This is a great option if you're looking for a certain style but more colors or prints. Even cheaper prices sometimes too!
Comfy Swing Tunic

Boho T-Shirt 3/4 Sleeve

Short Sleeves Flare Tunic

Lace Tunic Top

Other Bump-Friendly clothing on Amazon
If you're looking for a few ways to help ensure you stay modest throughout your pregnancy, these ideas can help transform your wardrobe into something new.

I found these camis and fell in love with them! They're adjustable so you can make the neckline higher, they're super stretchy, and if you size up (I went plus size for comfort and extra length) they're perfect!
Slip extenders are a great way to add a little extra coverage if you need to pull a skirt a little higher to fit it over the bump, or even if you're baby belly makes your favorite dress a tad shorter than you'd prefer.

Halftees are perfect during the hot summer months. Stick them under a spaghetti-strapped dress or get a sleeveless one if you just need some extra coverage.
A little fashion lagniappe? Don't forget that you can pair a tunic, duster, or kimono, with a skirt that may be a little too tight and it helps to hide those extra curves you get throughout those maternity days.
A few tips for buying clothes on Amazon
You NEED an Amazon Prime account
There's no question about it. Prime saves you money by offering super deals and super fast shipping. Don't forget about all the perks that come with having an Amazon account!
Try Prime Wardrobe
If you're a total fashionista, then you absolutely have to try Amazon Prime Wardrobe. Think StitchFix or something similar. Try before you buy and then love it all kind of thing.
Check the "Customers Also Bought" and "Similar Items" tabs
These are crazy good for giving you other style options and ideas for similar items to what you're looking for!
READ THE REVIEWS
I cannot stress this enough! Sellers can be finicky, buyer reviews can tell you so much about a product!
Follow the reviewer's "fit recommendations"
This is another good reason to look at those reviews. Make sure you read 2-4 reviews about a product so that you can make an informed decision.
Look at the reviewer's photos
This can give you a better idea on how you can make an article work for you, style options, and to see how it fits on a real person!
A few more tips for finding regular clothes and making them bump-friendly…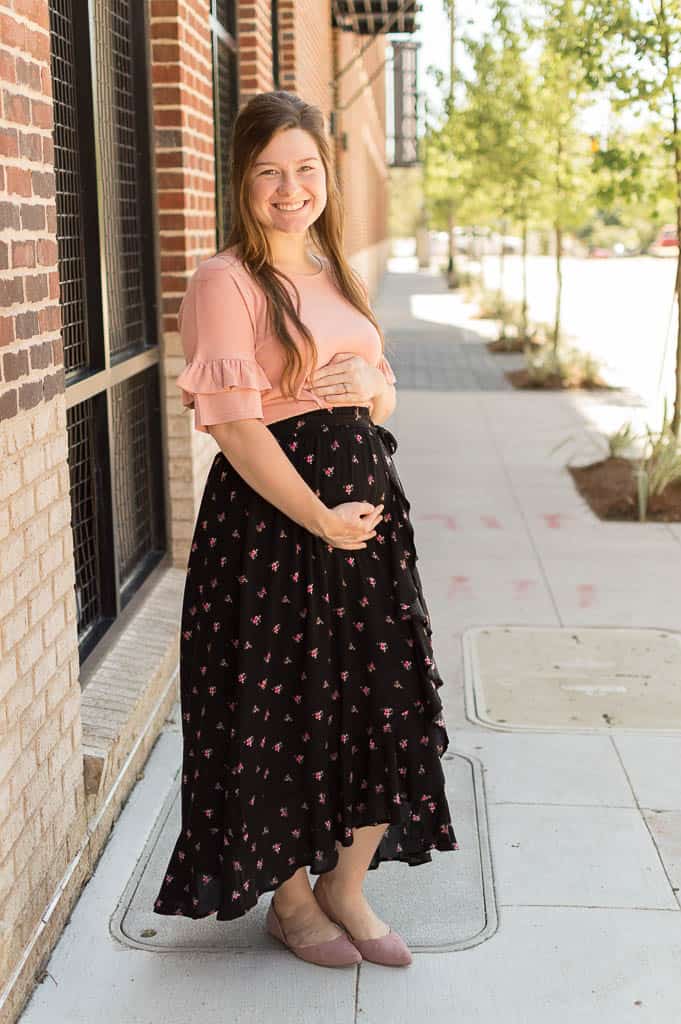 `
Try on everything in your closet
You'd be amazed at what you can find that fits that bump! It will also give you a guideline of what type of clothing will work better for your bump type.
Size Wise
Size up at least one in pencil skirts and dresses. Shirts can be VERY iffy, don't get discouraged. But in tunics, you can usually stick with your regular size because they're so flowy!
Want to read/learn more about modesty? Modesty is Biblical and a great way to give yourself unto Christ wholly and show that sacrifice in an outward manner! We have a ton of resources that can help!
What are your favorite shopping tips when it comes to Amazon? Have you found any other great modest bump-friendly clothes on Amazon?