Are you preparing for experiencing the solar eclipse with your kids? This event is a homeschool mom's dream. Considering the last total solar eclipse most similar to this one was in 1979, it's a pretty special time and can be an amazing experience for everyone. If you miss the 2017 solar eclipse, you may not get the opportunity to see another.
Total solar eclipses seen across the country are pretty rare. Even this time around, our area won't get to see the total solar eclipse. The next complete eclipse that will be in range for us to see isn't until 2058. If you're in the line of sight for a total solar eclipse this time around, don't miss out! Make experiencing the solar eclipse with your kids a time that they will never forget!
Tips for Experiencing the Solar Eclipse with Kids
First, be sure that your child understand what a solar eclipse is and why it's so important to take part in. This is a pretty easy part. Visit your local library for books on eclipses and do a quick search for educational videos on eclipses, maybe like the one below.
Get our FREE 3 page printable to bring more fun to experiencing the solar eclipse with your kids!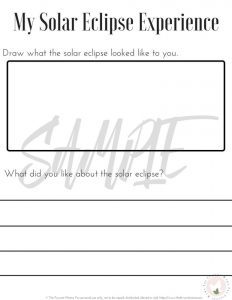 Solar Eclipse Viewing Accessories
Celestron EclipSmart ISO Certified, 2017 North American Total Solar Eclipse Refracting Telescope, White (22060)
Celestron EclipSmart 2017 North American Total Solar Eclipse Binocular, Black, 10×42 (71238)
Sunoculars-Yellow with 8x the magnification of Eclipse Glasses
Looking directly into the sun can cause serious damage to your eyes. All studies say that even when viewing a solar eclipse, you should always use proper protection- this doesn't mean sunglasses. We know that our children are still developing and growing, be sure that if you plan on experiencing the solar eclipse with kids, then you probably need some certified viewing glasses. (It is extremely hard to find glasses that are verified safe. Be sure to order glasses that have a protection- like NASA!
Solar Eclipse Activities
NASA also lists a few ideas for activities for before/after experiencing the solar eclipse with kids. There are also many other great resources that help to spark your child's interest in the solar eclipse of 2017. A quick Pinterest search shows the many, many fun ways to include your children while viewing the solar eclipse.
Solar Eclipse 2017: The Complete Kids' Guide and Activity Book for the Great American Solar Eclipse
The Solar Eclipse of 2017: Where and How to Best View It
Eddie's Eclipse
Looking Up!: The Science of Stargazing (Science of Fun Stuff)
SOLAR ECLIPSE SYSTEM: The Complete Kids Guide( Childerns Astronomy and space book
When the Sun Goes Dark
You can also create your own safe solar eclipse viewing box by using a few household materials. All you need is a cardboard box, a piece of white card stock, and a piece of foil to create your own DIY Pinhole Projector. It's a great little hands on science experiment!
Want to create your own DIY Pinhole Projector to view the solar eclipse? Come back later to view step by step instructions and to watch a simple tutorial video! This is literally so easy that it can be done in less than 5 minutes!
What are your plans to help your kids have the best experience with the solar eclipse?
Let us know in the comments!