Pressure Cooker Whole Chicken, Potatoes and Green Beans
The Fervent Mama uses Affiliate Links. See our disclosure policy here.
If there's a go-to meal that I know is a hit with my family and everybody else in the world, it would be this one. It's one of those comfort meals that is almost too good to be true. One of those tried and true, hard to mess up, always good, even when you just had it two days ago, meals. This Pressure Cooker Whole Chicken, Potatoes, and Green Beans is just that.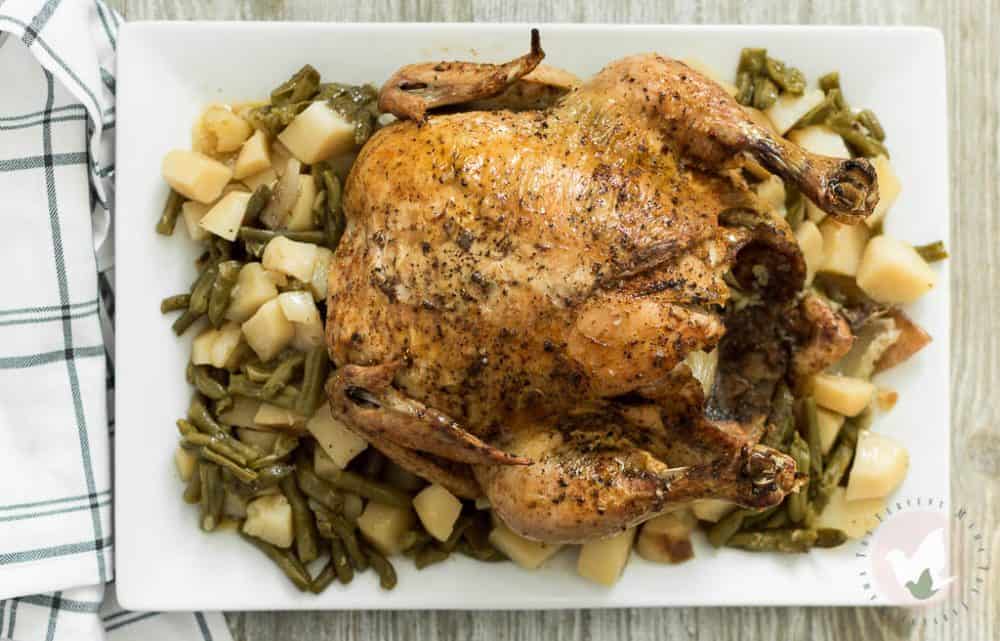 This is a place where we can be open and share our deepest darkest secrets, so I'm gonna share one with you. I was afraid to cook a whole chicken for years. I wouldn't even think about it because I thought only fancy-schmancy's made it. But then I made a one-pot slow cooker whole chicken dish and I was smitten. All I could think about was why did I let this bird intimidate me?!
I'm all for a one pot meal, which is why I love the pressure cooker; put one of those stackable steamers inside and BAM, cook ten things at one time. I'm exaggerating. But for real, you can cook like 3. Which is absolutely perfect for a main dish and two sides.
This chicken comes out so fresh, so juicy, so flavorful, so amazing, that you'll definitely want to add it to your meal plan on the regular. My whole family loves this dish, down to even my picky ones. Bonus points that not one bit of it goes to waste since I know you're gonna be making bone broth afterward, right?
The key to cooking the perfect pressure cooker whole chicken is to know three things; how to season it properly, what time to cook it on, then how to finish it. Because I really like you guys, I'm spilling all the details to help you make the most tender and juicy pressure cooker whole chicken too!
Instant Pot DUO60 6 Qt Multi-Use Programmable Pressure Cooker
ekovana Stackable Stainless Steel Pressure Cooker Steamer Insert
Genuine Instant Pot Sealing Ring Clear, 5 or 6 Quart
Regency Natural Ultra Fine 100% Cotton Cheesecloth 9 sq.ft
The best thing about this meal is that we don't have to use any frilly extra accessories for the pressure cooker (even though they're still fun to have!), and we're still cooking the whole meal! The crucial factor lies in the layering; potatoes, green beans, chicken.
We're going to season each layer as we go so that we know that each ingredient will have excellent flavor. Beginning with the bottom layer, potatoes, then working up. For the chicken, whatever you do don't forget to remove the innards first. You'll be cooking the bird breast side up, so you'll want to carefully pull up the skin from the meat so that you can season well.
If the chicken rests too high, simply press down firmly. Remember that everything will settle while cooking and reduce in size. When it finishes cooking, remove the chicken and place it in an oven-safe dish, I prefer a cast iron skillet, until skin is browned.
Quite frankly, the broiler step is optional. However, it produces the most scrumptious and crispy chicken skin. Otherwise, you'd be stuck with soggy skin that you most definitely will not want to eat- though it does its job in keeping the chicken very moist.
Pressure Cooker Whole Chicken is one of my favorites. It's so easy and delicious that we eat it at least a few times a month! Save those bones and drippings, you'll want them to make a flavorful bone broth- which we'll be sharing about VERY soon! So in the meantime, just freeze those bones until we get it up!
Be sure to pin this recipe, send it to a friend, or share it on your favorite social media! Sharing is caring, and by sharing you're also helping your friends and family to find great quality recipes to try with their family tonight!
Don't forget to join our Facebook Group, Pressure Cooker Family Recipes, to gather new recipes, or share some of your own! We're creating a community around one of our favorite kitchen gadgets and giving you the opportunity to learn and teach your friends!
Do you have a recipe that you'd like to see transformed into a pressure cooker version? Link your favorite recipe, email us, or list it in the comments and we'll do our best to make the best version of it just for you!