Pressure Cooker White Chicken Chili, for cheaters
The Fervent Mama uses Affiliate Links. See our disclosure policy here.
Are you like me? A mom that sometimes struggles to keep up with everything going on. A mama that sometimes needs a break but knows your family's hungry tummies are counting on you and your budget screams "no eating out!"?
If that's you, then this Pressure Cooker White Chicken Chili recipe was created for YOU! We've cheated and made one of our favorite go-to meals an easy dump recipe for those busy days that you just need a little break, but you don't want to sacrifice flavor.
Unlike most of our recipes, I've skipped the recipe process photos. Why? Because this is a literal dump recipe. All you would see is me dumping the ingredients into the pot and stirring. I figured it was pretty self-explanatory and you're just here for the recipe anyways.
Warning: This isn't the most health conscious recipe. This pressure cooker white chicken chili is created for convenience and uses all canned ingredients, but it sure creates a yummy weeknight dinner that is sure to satisfy the whole family. The recipe makes a lot but freezes well.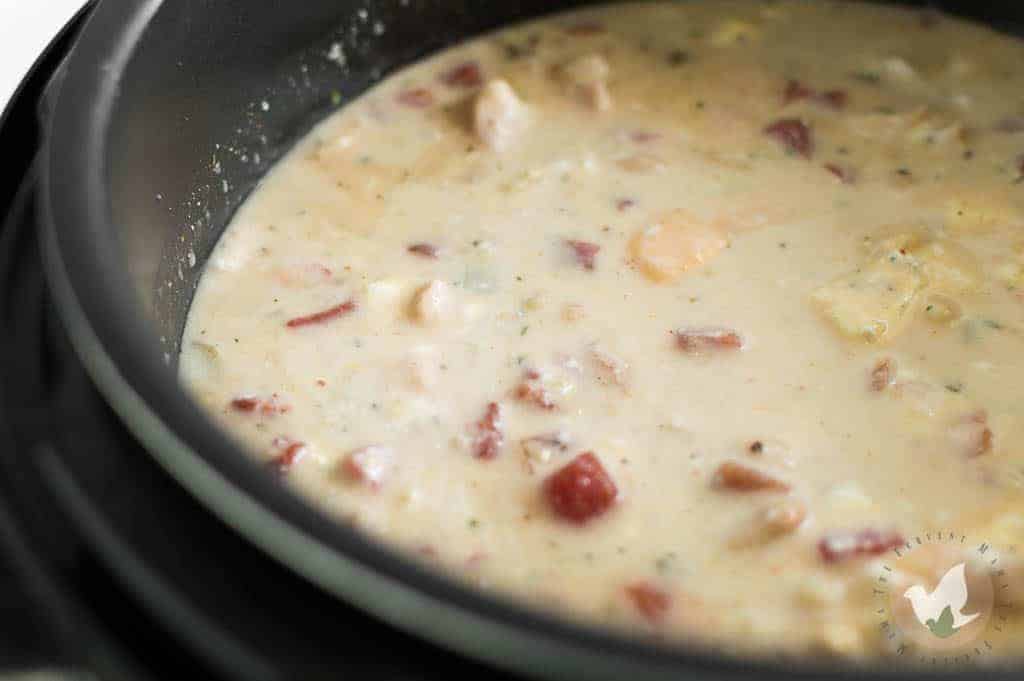 Even though this isn't my favorite version of pressure cooker white chicken chili, but it sure does get the job done when I'm in a pinch. Be sure that you check back for our homemade version of pressure cooker white chicken chili, one that's better for you and really scrumptious!
Instant Pot DUO Plus, 6 Qt
Genuine Instant Pot Sealing Ring 2-Pack
Genuine Instant Pot Tempered Glass lid
7′ Inch Non-stick Springform Bundt Pan
Are you looking for a community that loves their pressure cookers as much as you do? Or are you a pressure cooker newbie? Join our Facebook Community Pressure Cooker Family Recipes where you can be free to share your favorite recipes, ask questions, or share great tips and tricks too!