LOW CARB Pressure Cooker Roasted Garlic and Cauliflower Soup
The Fervent Mama uses Affiliate Links. See our disclosure policy here.
I'm really not sure if we're wrapping up winter, or if it'll hang on a little bit longer, but I do know that it's still soup season, right? Oh and we're throwing another thing at you by making another soup that's creamy and delicious, but still low carb, KETO, Whole 30 and Paleo friendly!
This pressure cooker roasted garlic and cauliflower soup is amazing, so versatile, and absolutely scrumdiddlyumptious. So if you're looking for a pressure cooker soup that will warm your soul and delight your belly, this is it.
I've come across a number of cauliflower soup recipes, but nothing quite like this one. We're not using any heavy cream or sweetener, we're adding an extra layer of flavor with our pressure cooker roasted cooker roasted garlic, and we're using our recipe for pressure cooker bone broth. It really doesn't get better than truly homemade.
Instant Pot DUO Plus 60, 6 Qt 9-in-1
Proctor-Silex 59738A Hand Blender
Vitamix 5200 Blender, Black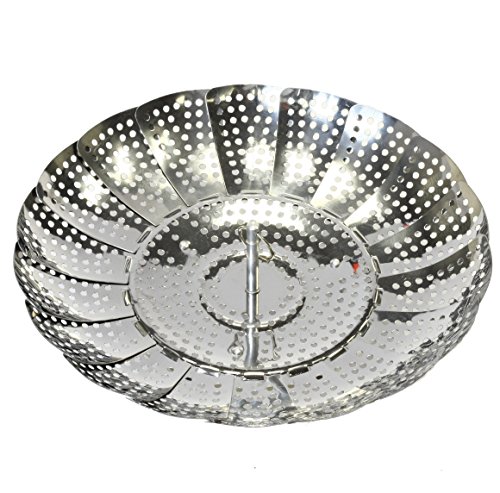 Chef Craft 100% Stainless Steel Steamer Basket
TIP: For an added layer of complexity, coat your cauliflower florets in olive oil and put them under a broiler until they begin to lightly brown/crisp on the edges. This light roast adds even more flavor to your pressure cooker roasted garlic and cauliflower soup!
Pressure Cooker Roasted Garlic and Cauliflower Soup
In your pressure cooker, saute the chopped onion in your olive oil. When it starts to get a little tender (about 3 minutes), pour in your broth, chopped cauliflower, and seasonings. If you don't have any bone broth on hand, feel free to replace it with your favorite chicken or vegetable broth. We're gonna pressure cook until our cauliflower gets good and tender.
Because we're going to combine the broth and cauliflower to make our soup, there's no need to use a steamer basket or fancy gadget, you can cook them together. Once the cauliflower has cooked, we'll add our roasted garlic cloves.
Using an immersion blender or food processor, begin pureeing your mixture until it becomes smooth. You can add more salt and pepper to taste, but we're almost done! What comes next all depends on your chosen diet, so be sure that you are aware of what ingredients are approved for your lifestyle change.
If you're KETO or Paleo, I like to serve with crumbled bacon pieces. KETO people, you can top with cheese or a little sour cream, an olive oil drizzle or low carb cheese croutons for extra crunch (I like this recipe). If you're on Whole 30, top with a little coconut cream.
You can serve with your favorite toppings that are approved for your diet but are completely optional and you can absolutely eat the soup in the state that it is. I could literally slurp this soup right out of a mug and be totally okay with it.
Are you looking for a community that loves their pressure cookers as much as you do? Or are you a pressure cooker newbie? Join our Facebook Community Pressure Cooker Family Recipes where you can be free to share your favorite recipes, ask questions, or share great tips and tricks too!