When we visit Branson or Gatlinburg, my family always has a few favorite spots. One of them is Dolly Pardon's Dixie Stampede! From the kids to the adults, it's always a blast for everyone! The animals, the comedy, the patriotism, the show, the stampede-ing, you've got to enjoy it all!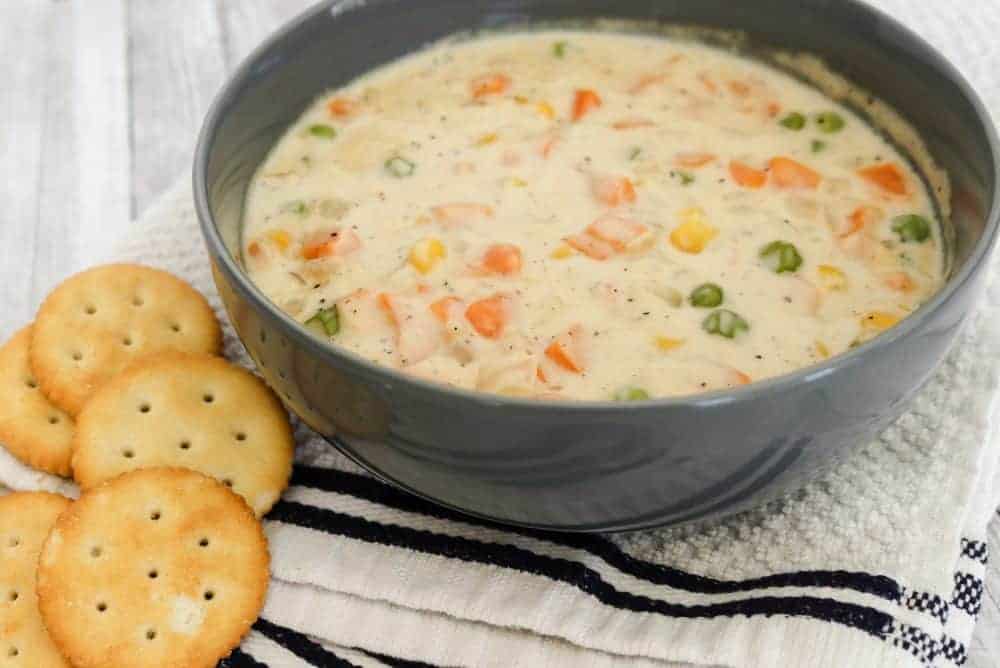 My father-in-law, who always comes with us on vacations, always tries to get us to go back for a second go-round. He even skips out on a few meals in preparation for the "big night" at Dolly's. I'd put money that if he had to choose his favorites, it would be the Creamy Vegetable Soup and Homemade Biscuits.
But after the night was over, I really started thinking. Why wait until next vacation to savor the flavor again? And this Pressure Cooker Copycat Dixie Stampede Creamy Vegetable Soup was born!
If you're a fan of this real deal yum, then this will surely help out your hankering for a good creamy homestyle soup. With our family (of 2 kids), there's always enough food to go around. The littles aren't very good soup eaters, so we get our fill of this yummy soup.
If there's anything you should know about this soup it's that it's as easy as it is delicious. Like almost all of our pressure cooker recipes, you can always make this recipe your own by making just a few alterations. As an example, if you like fresh veg, you can totally chop up your own veg and add it in too without any changes to cook time!
The soup is so simple! You make a blonde roux, sweat your garlic and onions, add the liquid, seasonings, and vegetables, give it a good stir, close and lock the lid, cook.
This Pressure Cooker Copycat Dixie Stampede Creamy Vegetable Soup is sure to bring you right back to your time at Dolly Pardon's Stampeded. You may even find yourself cheering on your home flag at the dinner table tonight- yes, it's that good.
This version is a little more chunky than the version you'll eat at The Stampede. But you can fix that by cutting the number of veggies, chop the veggies finer, or strain to get the veggie flavor without all the chunks of veg in there.
Instant Pot DUO60 6 Qt Pressure Cooker

Trivet with Handles for Instant Pot

Stackable Stainless Steamer

Instant Pot Silicone Starter Set

Pressure Cooker Copycat Dixie Stampede Creamy Vegetable Soup
Ingredients
4

tbs

butter

4

tbs

flour

1

small

onion

chopped

3

cloves

garlic

minced

1

tsp

salt

1

tsp

pepper

1/4

tsp

cayenne

2

cups

chicken broth/stock

or bone broth

1

bag

frozen chopped vegetables

1 1/2

cups

heavy cream
Instructions
Turn your pressure cooker to the SEAR/SAUTE setting. Add butter. Once the butter is melted, add the flour and stir for about 3 minutes.

Add your chopped onion and garlic and cook for another 3-4 minutes or until they become soft.

Add the broth/stock, chopped vegetables, salt, pepper, and cayenne.

Stir until mixed well. Close and lock lid, cook on HI pressure for 3 minutes.

When the timer goes off, unplug the pot and let it naturally release pressure for 5 minutes, and then perform a manual release of the pressure. If soup begins to leak out of the vent, carefully close it and wait a few more minutes.

Plug the pressure cooker back in and turn on to SEAR/SAUTE. Add the heavy cream and stir. Cook for 5+ minutes or until the mixture thickens.

If your mix is still too thin, you can add a cornstarch slurry at a 1:1 ratio. One tbs of cornstarch to 1 tbs water added to the soup and stir until thickened.


If your mix is too thick, you can add a little water or broth to desired consistency.
We love it when our readers come back and tell us how they liked our recipes, and even more when they tell us how they made them their own! If you tried our recipes, let us know in the comments, or email us to chat about it!
Are you looking for a community that loves their pressure cookers as much as you do? Or are you a pressure cooker newbie? Join our Facebook Community Pressure Cooker Family Recipes where you can be free to share your favorite recipes, ask questions, or share great tips and tricks too!