Best Pressure Cooker Copycat Dixie Stampede Creamy Vegetable Soup
The Fervent Mama uses Affiliate Links. See our disclosure policy here.
When we visit Branson or Gatlinburg, my family always has a few favorite spots. One of them is Dolly Pardon's Dixie Stampede! From the kids to the adults, it's always a blast for everyone! The animals, the comedy, the patriotism, the show, the stampede-ing, you've got to enjoy it all!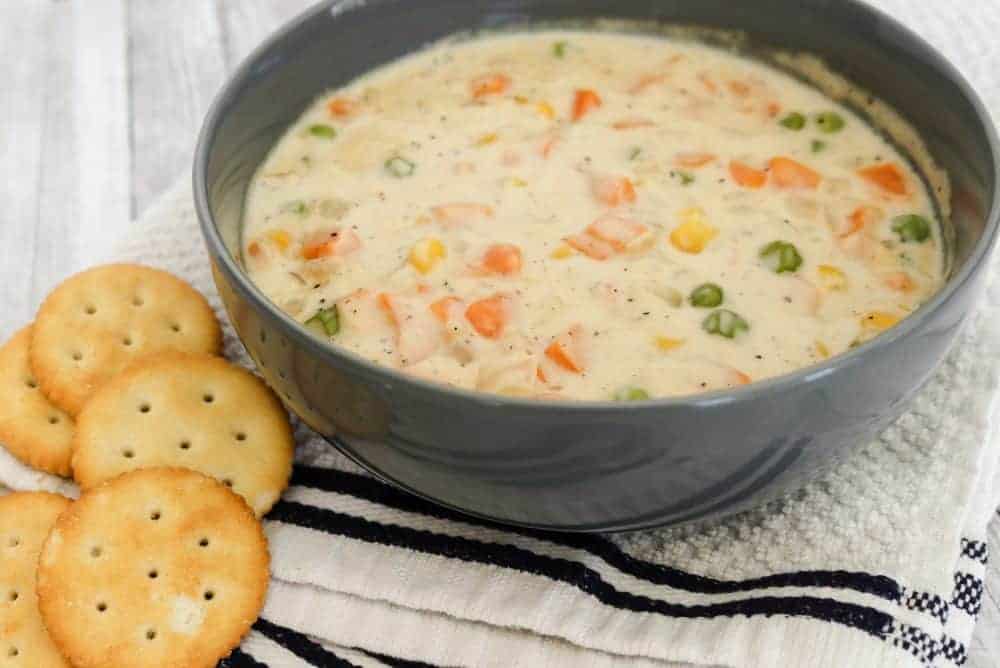 My father-in-law, who comes with us on all the vacations, always tries to get us to go back for a second go-round. He even skips out on a few meals in preparation for the "big night" at Dolly's.
I'd put money that if he had to choose his favorite, it would be the Creamy Vegetable Soup and Homemade Biscuits. This soup's a crowd-pleaser for sure.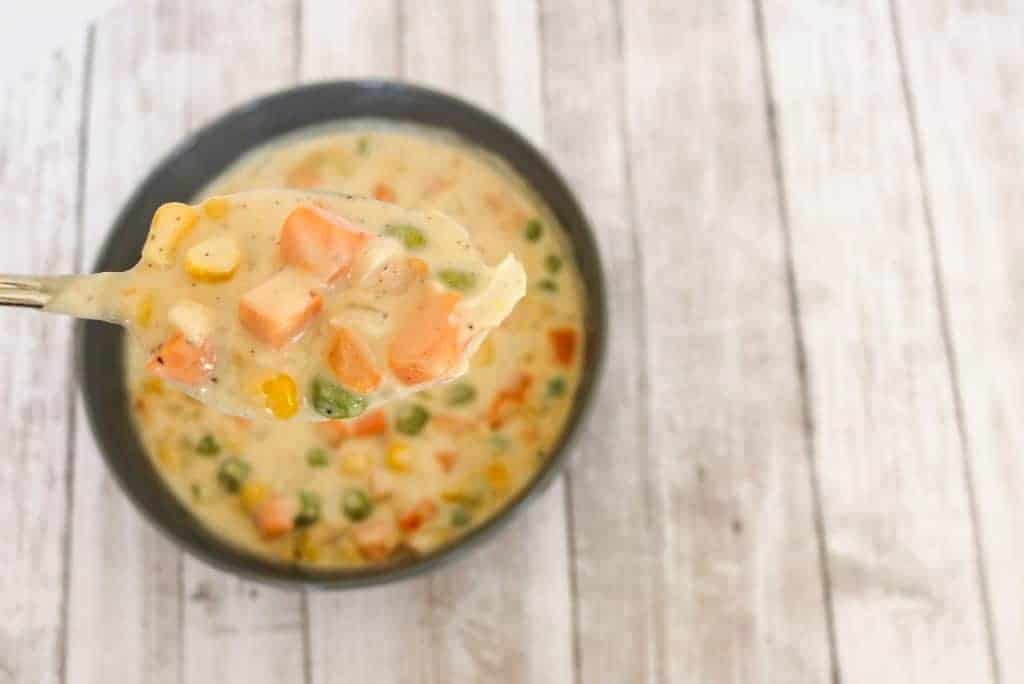 Why Not Just Make it Myself?
After the night was over, I really started thinking. Why wait until the next vacation to savor the flavor again? And this Pressure Cooker Copycat Dixie Stampede Creamy Vegetable Soup was born!
If you're a fan of this real-deal yum, then this will surely help out your hankering for a good creamy homestyle soup. With our family (of 2 kids), there's always enough food to go around. The littles aren't very good soup eaters, so we get our fill of this yummy soup.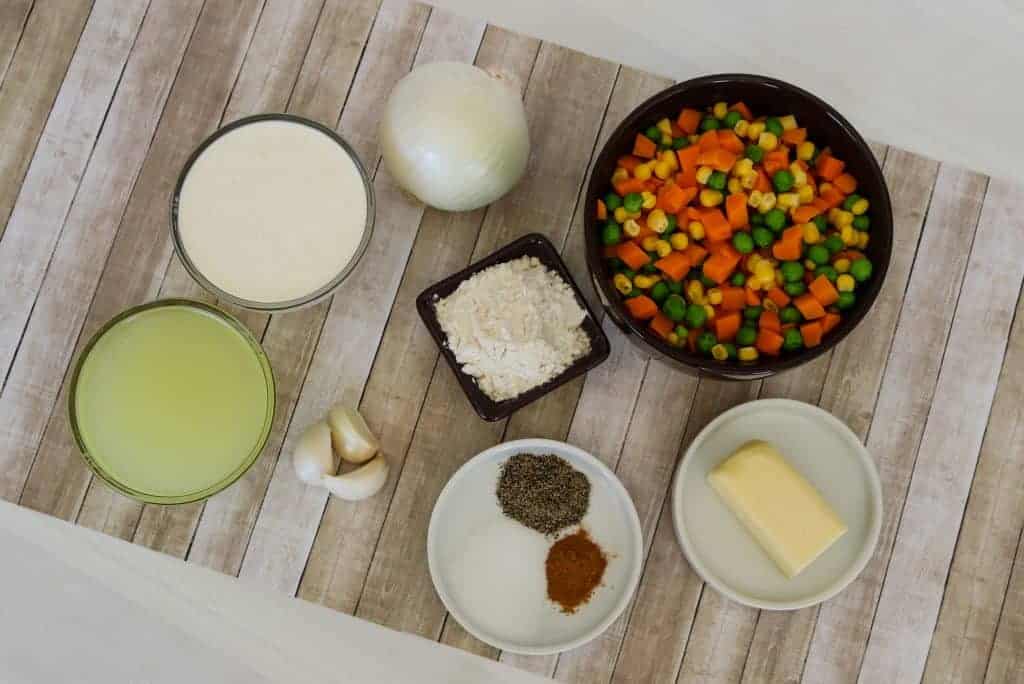 If there's anything you should know about this soup it's that it's as easy as it is delicious. Like almost all of our pressure cooker recipes, you can always make this recipe your own by making just a few alterations. As an example, if you like fresh veg, you can totally chop up your own veggies from your garden and add them in too without any changes to cook time! The Instant Pot (or your favorite brand) will do all the magic.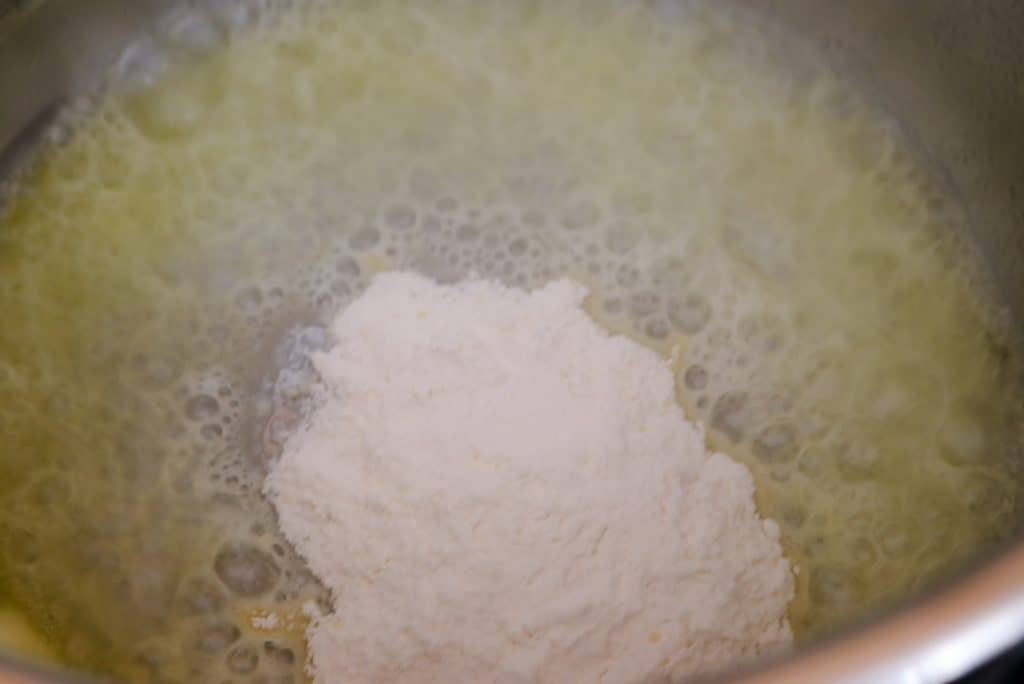 The soup is so simple! You make a blonde roux, sweat your garlic and onions, add the liquid, seasonings, and vegetables, give it a good stir, close and lock the lid, cook.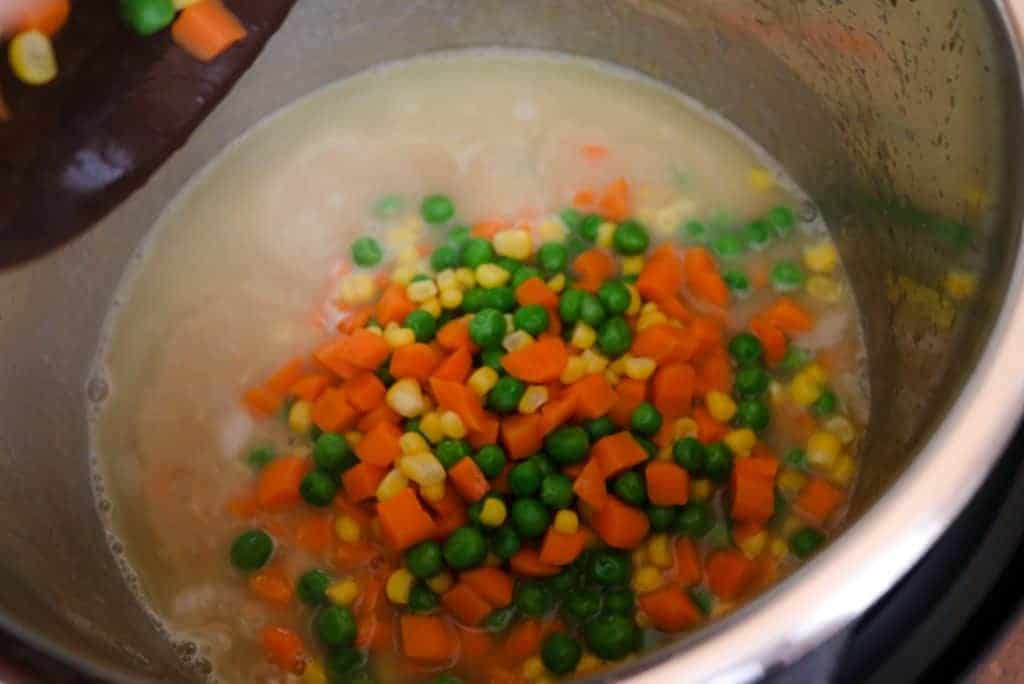 Sometimes food is as much about nostalgia as it is about taste. Our soup has both! If you are looking for nostalgia, comfort, and taste to take to the dinner table tonight, I'm telling you – this soup is it.
This Pressure Cooker Copycat Dixie Stampede Creamy Vegetable Soup is sure to bring you right back to your time at Dolly Pardon's Stampede. You may even find yourself cheering on your home flag at the dinner table tonight. Yes. It's that good! I love it when a good meal brings back good memories.
Make This Creamy Homestyle Soup work for you!
True confessions: this version is a little more chunky than the version you'll eat at The Stampede. My family loves the chunkiness of it, but I know that texture or consistency is not for everyone.
If you prefer a thinner soup, you can cut the number of veggies, chop the veggies finer, or strain the veggies out of the soup after cooking it to get the veg flavor without all the chunks. Either way you make it, you will get that famous Dixie Stampede flavor in a creamy homestyle soup.
Instant Pot DUO60 6 Qt Pressure Cooker

Trivet with Handles for Instant Pot

Stackable Stainless Steamer

Instant Pot Silicone Starter Set

The Recipe for Pressure Cooker Copycat Dixie Stampede Creamy Vegetable Soup
Ready to give it a try? Add this to your menu plan and make your shopping list for this week. Your family will thank you for it. Serve the soup with a nice crusty bread as pictured, or a warm biscuit for a nice balance. Here is the recipe with everything you need to make this creamy homestyle soup for your family.
Did you love it??? We appreciate it so much when our readers come back and tell us how they liked our recipes, and even more when they tell us how they made them their own! If you tried our recipes, let us know in the comments, or email us to chat about it!
Are you looking for a community where everyone loves their pressure cookers as much as you do? Or are you a pressure cooker newbie? Join our Facebook Community Pressure Cooker Family Recipes where you can be free to share your favorite recipes, ask questions, or share great tips and tricks too!