Pressure Cooker Ham that is fall apart tender and deliciously sweet!
The Fervent Mama uses Affiliate Links. See our disclosure policy here.
If you're looking to change up your Holiday Dinner Menu Plan this year, think twice about the spiral ham and go ahead and make this Pressure Cooker Ham!
I can almost guarantee that everyone at you're gathering will be amazed and it's the perfect equivalent to the beloved holiday ham tradition.
You can say that this Instant Pot Ham is the modern version of a holiday classic- whatever you call it, just don't pass it over!
But, be aware, everyone will want the recipe afterward! So be sure that you save this link to your favorites so that you can share it!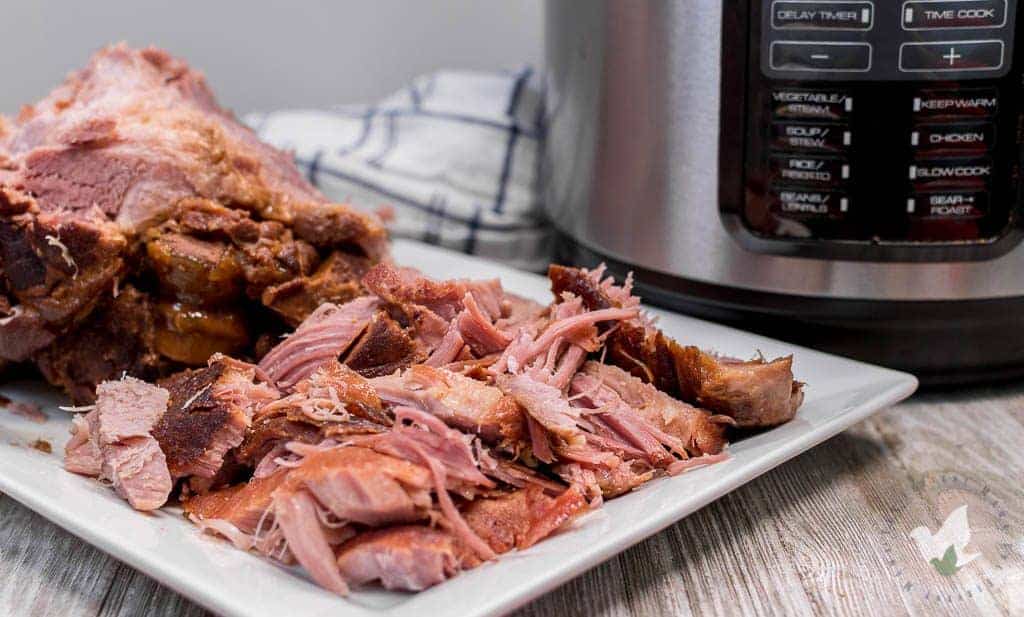 If you're from the south, or just anything like me, ham is a good meal for any time of year! We love taking a ham and boiling it down till it just falls to pieces.
And not in that tough, dry, bleh- kind of way. In the most tender, juicy, and delicious kind of way. You know what I mean!
Ham is so good for a main meat dish, adding it to beans, stews, soups, sandwiches! Options are endless when you've got something this delicious!
Don't get me wrong, a spiral ham is pretty good too. But in our family, it's all about maw-maw's boiled ham and we can't get enough of it.
I've adapted this pressure cooker ham recipe from my grandmother's original boiled ham recipe, so you know it's gonna be good!
This recipe is so simple that it's pretty much foolproof. You throw everything into the magic pot and then let it do all the work.
Honestly, I can't believe that I fit a 7lb ham and all the "juices" into my pressure cooker. But I did and it turned out amazing.
We often use the term "pressure cooker" when referring to our recipes. Feel free to call this the "Instant Pot Ham" if that better fits your fancy.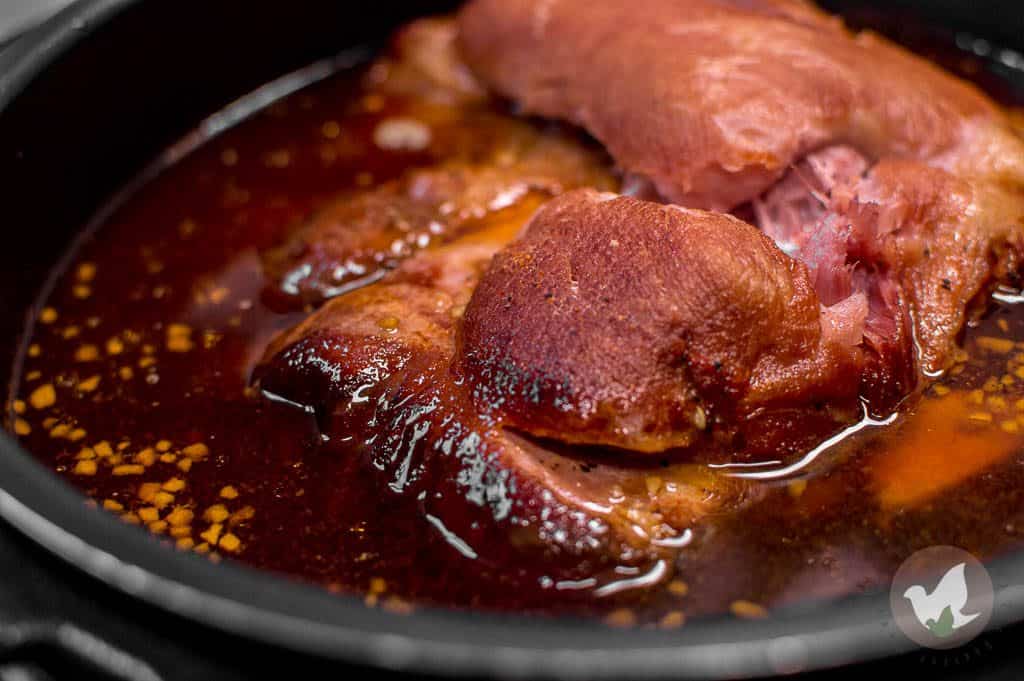 The key to perfection lies in getting the juice-seasoning-meat ratio just right and I think we've done that.
But, I usually let you be the judge of our recipes. This means that you'll need to come back and tell us just what you thought about it!
Between the emails and the consistent views that we get on this recipe, you need to know that this pressure cooker ham recipe is going to knock your socks off.
We needed to include that warning…. just in case. 🙂
Even though your family is going to think you're some type of kitchen ninja, I can promise that the recipe is 100% EASY- PEASY.
In your pressure cooker, combine the apple juice, coke (optional), sugar, and all seasoning. Mix well.
Place the LARGE BONE-IN SMOKED HAM into the pressure cooker with the smaller end facing upwards. That helps the fat cap to drain and your help stay moist all over.
Close and lock the lid, cook for 45-60 minutes on HI pressure.
Look, I know that seems like a lot for a ham that is already cooked (smoked). But trust me on this one.
Your ham is going to be the talk of the evening.
So why the difference in cook times? Hams come in a variety of sizes. For a smaller ham, cook on the lower side. A larger, cook towards the longer side.
If your ham doesn't come out juicy enough, or fall apart tender, feel free to add a little more cook time.
15 minute intervals with a natural release is perfect for monitoring.
You've got a lot in this pot, so you'll want to let the pressure cooker do its thing and allow it to perform a natural release. If not, you'll have a sweet mess all over your kitchen.
A tasty mess, but none the less, a mess.
Before the ham cools, I like to begin removing it from the bone and placing it back into juices so that every piece has some of the syrupy liquid on it.
I'm literally drooling right now.
To serve, remove it from the juices but reserve some as "gravy".
For storing, I like to save some of the juices to let the ham marinade in an airtight container.
If you have leftovers and want to freeze, make sure you reserve some of the drippings for that too! You'll want it during defrosting so that you don't have dry ham.
Instant Pot DUO60 6 Qt 7-in-1 Pressure Cooker

Instant Pot Stainless Steel Steamer Basket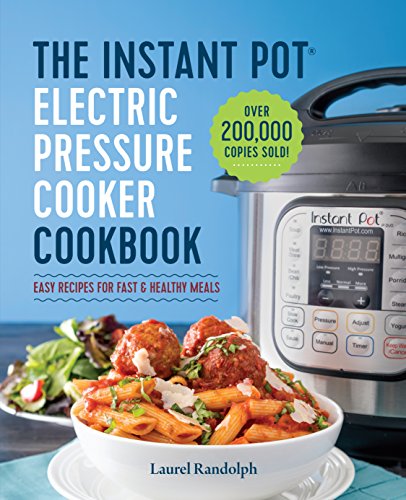 The Instant Pot® Pressure Cooker Cookbook

Farberware 7-1 pressure cooker

After listening to our readers, we tested this recipe again, and again, to see if we could recreate the "dry" effect that our readers were experiencing. And, unfortunately, we did.
We have edited the recipe to reflect our findings and we suggest a shorter cook time for hams that are smaller (closer to 5 pounds) and a longer cook time for larger than 6 pounds.
Be sure to pin this recipe, send it to a friend, or share it on your favorite social media!
Sharing is caring, and by sharing you're also helping your friends and family to find great quality recipes to try with their family tonight!
Don't forget to come back and tell us what you thought of our pressure cooker ham!
DO YOU HAVE A RECIPE THAT YOU'D LIKE TO SEE TRANSFORMED INTO A PRESSURE COOKER VERSION? LINK YOUR FAVORITE RECIPE, EMAIL US, OR LIST IT IN THE COMMENTS AND WE'LL DO OUR BEST TO MAKE THE BEST VERSION OF IT JUST FOR YOU!