Modest, Bump Friendly Pieces from Lily Field Threads!
The Fervent Mama uses Affiliate Links. See our disclosure policy here.
A while back, we announced that we started a second website selling modest clothes, called Lily Field Threads. It's been a little passion project and I love being able to have another creative outlet while serving women all over America.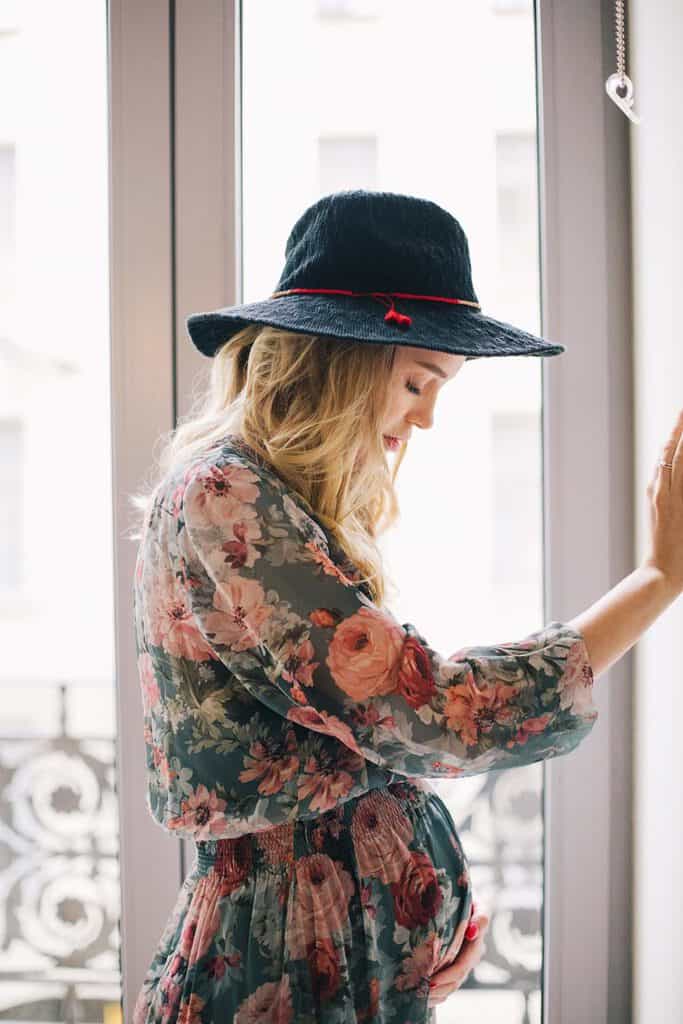 Before I get into sharing all my favorite modest bump friendly pieces, I wanted to remind you of the importance that modesty is in the Christian walk. Modesty is not just on the outward. Modesty is a lifestyle.
It's the way you carry yourself, it's the attitude that you have. It's how you interact with others, how you serve others. It's in your actions and your walk. Modesty is your character. And all of those things show, when you portray them inward first, on the outward.
I've written about modesty a few times before.
Mama's, please teach your daughters about Biblical Modesty
5 Ways to Promote Modesty, other than your clothes
In the sexualized society that we live in now, where confidence and value are somehow equated with the amount of skin that you show- we need a church that stands for modesty now, more than ever!
I started Lily Field Threads because I wanted to give access to affordable and fashionable modest clothing to everyone!
I have this love-hate relationship with maternity clothes. I love them because they can be super comfy- especially those bands after pregnancy- but they're seasonal and expensive. Ugh.
Not only is it super hard to find modest maternity, but when you do find those bump friendly pieces that are modest, the price tag holds a fee that's bigger than my budget allows.
We're changing that. How? Well, we're giving you non-maternity clothes that are completely bump friendly and affordable.
Because maternity clothes are seasonal. They can only be worn for that time when you're growing little humans. But if you can find regular clothes that can accommodate the bump, then you're investing in clothing that can be worn anytime!
On an even higher note, bump friendly pieces are forgiving. Which is even better news for AFTER the baby comes and your body is new and you're struggling with weight and body image and changes, and the whole shebang.
Don't beat yourself up, girl. We got you covered.
Sidenote- it comes well below my knees and I'm 5'6″. Not only am I holding it under my belly, but the wind was also blowing, causing it to show a little more knee than I initially realized. You can see from the back that it comes below- because this is NOT a hi-low dress (the hem is the same length all around.)
So, this dress is super lightweight. It's a crepe style and I love the texture it has. Plus it has pockets and a ruffle hem!! Also, this blush ruffle sleeve can be found in TWO colors on the site. The shirt is super soft and forgiving- I'm wearing a Medium and it fit perfectly over my growing belly!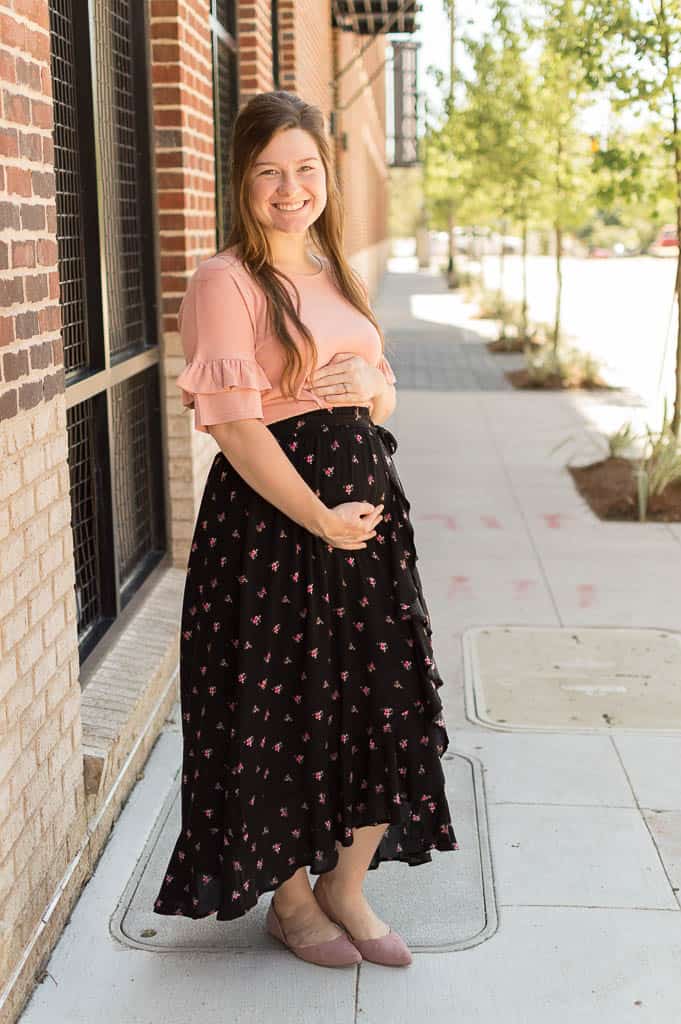 Again with the ruffles, I love it! I pulled this midi skirt up over my tum and I was so comfy all day! It stayed well below my knees, even though it is a hi-low. Plus, black is so slimming, right?
There's also a tie accent around the belly and a ruffle down the front hem leading to the hi-low ruffle bottom. You won't be disappointed by this one!
Everybody needs a good Swing Dress!
This dress is so versatile because of its simplicity! It wouldn't take much to either dress this up, or dress it down. Think about it with a vest and a pair of sneakers, or even a duster in a pair of heels.
Girl, modest style is so in!
We're swooning over the Mia Dress!
I wanted to show you the versatility of some of these modest clothes, rather than just show you with a pregnant body in them. I mean, we can all just about imagine that these would look great on anyone, right?
I mean, think about how cute you would be in this bump-friendly dress! It has a babydoll hem right under the bust, and a cute accent tie, which would make it perfect for showing off that cute growing babe!
The best part is that the dress is not only forgiving but its also in a busy print which makes it so easy to wear again right after the baby is born! Taking the stress out of your postpartum wardrobe!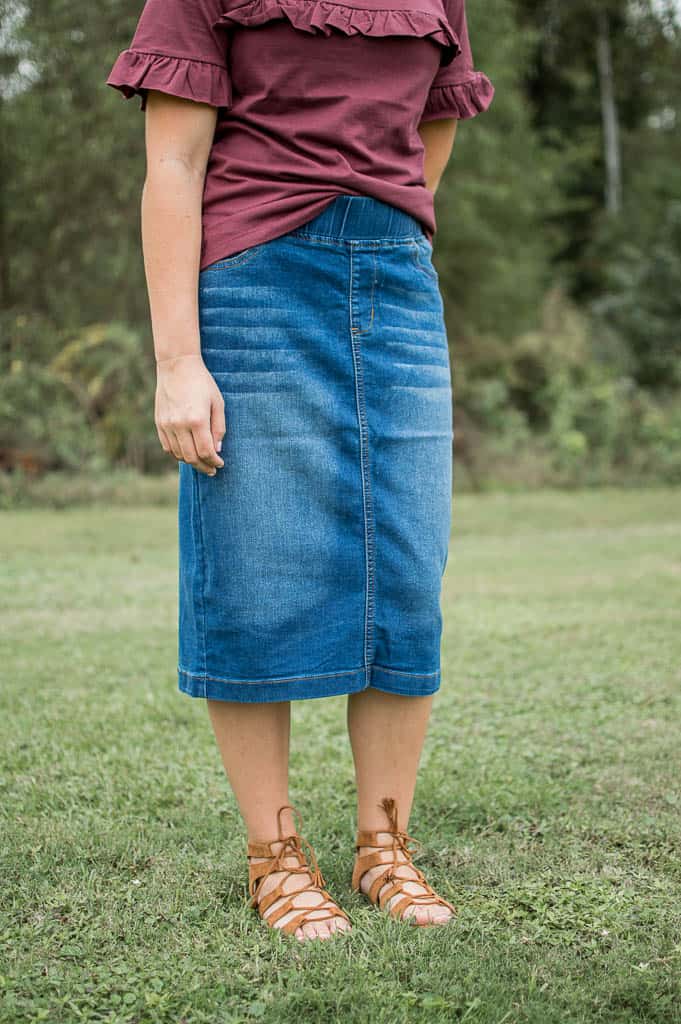 There's a growing number of elastic waist denim skirts that are entering the scene and I love it. These are seriously so comfortable that we got them in TWO colors. If you can go for the under-the-belly style, forget the modest maternity denim and go with this elastic waist one!
This particular denim skirt sold out quick on Lily Field Threads, so we tagged its sister- the Lydia Dark Denim. Same skirt, same style, just a different color. But there are only a couple left!
That's not all the bump friendly pieces that they offer! In fact, they have a whole collection for expecting women who are looking for modest clothes. You can click here to find it!
Now that we've shown you some of our favorite non-maternity, but bump friendly clothes. Are you jumping on the train? How do you feel about maternity clothes? Love them or hate them?