Welcome to the How We Homeschool Blog Series!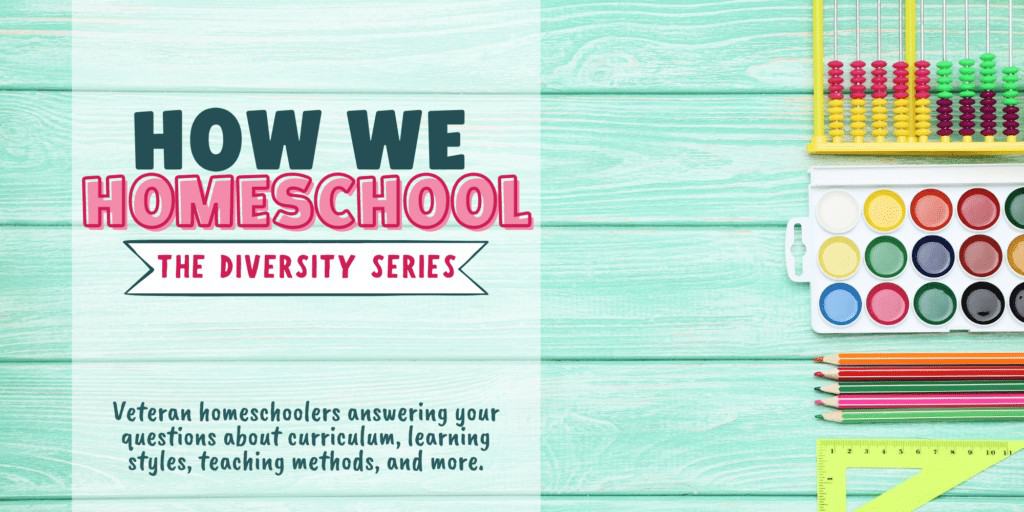 With the state of our world, culture, and economy, so many families are making the choice to homeschool this coming school year. How exciting it is to see homeschooling at the forefront of the education system.
The problem? So many of them are lacking the knowledge and the understanding of how FUN and FREEING homeschooling really is. Most of these people are following the public school systems guidelines for virtual schooling and some are even struggling with choosing a path at all.
In efforts to empower these families, I've teamed up with TWENTY-FOUR other amazing Homeschool Bloggers to help spread the wealth of knowledge we've gained from homeschooling our own kids and working with homeschool companies and brands.
It doesn't matter if you're a fresh homeschooler, or a veteran, you've looked for homeschool advice in some form or another.
Maybe it was from a friend, a Homeschool Facebook Group, or even a homeschool mom blog like this one. However you find your information, you know that advice that comes from those who have been there is weighty enough to follow.
And that's what the How We Homeschool series is all about!
Mamas, from all walks of life, with literally hundreds of combined years of homeschool experience, sharing their knowledge of ALL THINGS HOMESCHOOL.
In this series you'll find:
tips and tricks
organizational hacks
curriculum ideas
teaching methods
learning styles
homeschool struggles
encouragement
and so much more..
Each day (except Sundays) in September, we'll feature a new blogger or brand's take on homeschooling, and you won't want to miss it.
Along with all the great information, you'll find giveaways, freebies, and tons of encouragement to bring you through the entirety of your homeschool journey.
This page is the central brain of your experience. Below, you'll find a list of every blog post, opportunity to meet our sponsors, and find current giveaways/freebies that are being offered. Be sure to check back often because things change almost every day!
Don't forget to join our Homeschool Facebook Community, Fervent Christian Homeschoolers, so you don't miss out on any fun or chatter from the series!
How We Homeschool Series Featured Sponsors
Singapore Math Learning Center offers online 1-1 tutoring and online classes using the Singapore Mathematics method. Build a solid math foundation and help your child discover the 'why' and not just the 'how' of math. Visit our website for a free math assessment!

Media Angels, Inc. is a company dedicated to serving Jesus Christ in the fullest through curriculum, classes, online expos, writer mentoring, and podcasts, since 1994.
State History by A Helping Hand offers complete state history courses for every state from a Christian perspective for age 4 – grade 12. All levels are correlated so you can teach your family together!
Digital Grab Bag takes on a new approach to traditional bundle sales by providing beautiful, downloadable, PDF documents that are filled with coupons to get top quality resources from trusted content creators, brands, and bloggers at 100% discounts.
Fascinating Education is an online high school science site with courses in Chemistry, Biology, Physics, Anatomy and Physiology, and Logic of Medicine. Dr. Margulies, a neurologist, flips the teaching process by approaching science with colorful illustrations – supplemented with attached audio files – creating an easy way to learn science.
CalcuLadder, ReadyWriter, AlphaBetter, and SanctFinder – the Learning Vitamins Drill Series – have been homeschoolers' FAVORITE drills for 36 years! Written by homeschool dad and rocket scientist, Dr. Edwin Myers, these amazing drills have been used by over a MILLION students worldwide! CalcuLadder, ReadyWriter, AlphaBetter, and SanctiFinder drills are used to supplement any curriculum in any grade. We are still a family owned business after 36 years. We strive to honor Jesus and serve our customers well.
ShillerLearning publishes research-based curricula, music, manipulatives, flashcards, and workbooks for students of ages 4-13 (including pre-K and pre-Algebra), with beautifully designed lessons, diagnostic tests with answer keys, songs, and Montessori-based manipulatives.
And a special thanks to these brands too!
How We Homeschool Series Posts
How We Homeschool Series Giveaways
We have some amazing giveaways brought to you by the sponsors and contributors of the How We Homeschool series – there are over $2000 worth of prizes!! Check them out below; click on the ones you are interested in and you will be taken to a page with the entry form.
All giveaways will run for one week from their start date. Please read the terms and conditions for each giveaway you enter. Winners will be notified by email and will have 48 hours to claim their prize or another winner will be drawn. Unless otherwise stated, sponsors are responsible for delivering prizes directly.
All giveaways have ended.