How to Homeschool Without Support
The Fervent Mama uses Affiliate Links. See our disclosure policy here.
Choosing to become a homeschool family can be a life-altering decision. Not only does your daily routine change but you take on so many new tasks and titles as a homeschool parent. It can be easy to quickly become overwhelmed with your new responsibilities if you don't have the proper support in place.
Most of us look to those in our circles for support – neighbors, friends, church family, etc. What happens though when you don't know anyone else who homeschools? How will you find the support and guidance that you need?
Can you homeschool without support? The answer is yes, absolutely. And you can do so successfully!
Don't forget to scroll to the bottom of this post for a limited-time freebie!
How to Homeschool Without Support
Deciding to homeschool when you don't come from a family of homeschoolers can be a bit scary. Trust me, I've been in this spot and I drove the struggle bus for quite some time.
It's easy to call up or text a friend when you're having trouble potty training your little one or need a quick recipe suggestion. It's a bit more difficult to ask for curriculum advice or organization tips when you don't have any homeschool connections.
When we started homeschooling 6 years ago I didn't know a single family that homeschooled. After we ordered our books and supplies I started to panic. What if I had questions? What if I need to bend someone's ear after a tough week?
I spent hours and hours creeping online at other families on Instagram and Facebook, trying to replicate their school days. That was my first mistake – I was trying to replicate someone else's vision.
The beauty of homeschooling is that it looks different for everyone. There really isn't a "one size fits all" when it comes to what a regular day in the life looks like. Starting out with a completely blank slate since we didn't know any homeschoolers personally allowed us to create and mold our schooling to best fit our family.
I also quickly realized that the homeschool community is an amazing group of people that support and lift each other up – even when they aren't local. I found so many ways to become more confident as a new homeschool without support parents and connect with other homeschoolers in our first few months that I'd like to share with you!
Educate and Inspire Yourself
One of the most beneficial things I did as a new homeschool mom was to head to the library and grab some support books that focused on where I was in my homeschool journey. Homeschooling without support can be hard, but taking the time to read about many different types of styles and perspectives was quite an eye-opener for me.
I think I was looking for an instruction manual or a checklist of things we needed to do as a homeschool family. I learned so much about the different philosophies and how to cast a vision for our own school from some of these books.
And trust me, there are dozens and dozens of support books out there. Choose a few to start with and keep an open mind as you start to visualize your family homeschooling. I keep a list of my favorites so I can revisit them often.
Find Homeschool Friends
Although we didn't know of any homeschoolers when we started, we quickly learned that there were many families in our local area. By joining a few local groups and participating in homeschool designated events at museums and businesses, we quickly made lots of contacts.
Try checking websites or event calendars for homeschool programs or dates. I found a lot of events by doing a quick Google search for our closest large city + "homeschool". Here are a few examples of places to connect with other homeschoolers:
Homeschool co-ops (do a Facebook or Google search)
Library
Museums
Science or history center
Trampoline park
College or University programs
Share Your Successes
Homeschool criticism is a real thing – I know this. Especially when your family is brand new to the idea of homeschooling. This can make you want to keep to yourself and not share your journey with those around you.
I encourage you to seek out those who are genuinely interested. Share your successes with someone close to you who asks questions and is willing to lend an ear – even if they don't fully understand homeschooling.
Sometimes it's a good confidence booster to show what you've learned as a homeschool parent and give a peek into what your kids have been learning at home. Just be sure you're ready to face any unsolicited advice or that criticism I mentioned.
Find Virtual Support
Reach out to the homeschool community virtually. There are thousands of homeschool families on social media who share their tips, resources, and support with one another. Instagram and Facebook both have dozens of communities and groups.
Keep in mind though, comparison is the thief of joy. Look for inspiration – not for something to measure yourself against.
Write a Homeschool Mission Statement
One of the most important, yet overlooked, parts of homeschooling is a mission statement. Yep, just like those that companies and organizations write and follow.
Your homeschool mission statement helps you stay focused on what is most important to you and your family. It allows you to make decisions on curriculum, scheduling, and methods that align with your overall goals and values.
Having a mission statement serves as a great reminder as to why you started homeschooling and helps you stay focused on cultivating a successful, productive school time – even when you aren't surrounded by homeschoolers.
I hope these tips help you as you begin your homeschool journey. Remember, this is a way of life, not a competition or a replication of someone else's journey. Focus on creating the homeschool that serves you and your family. You'll find the support and resources you need when you need them. Don't rush the process, enjoy it!
HOMESCHOOL FREEBIE!
This post was written by…
Emily Allison is an accidental homeschooler turned lifer who believes homeschooling is a way of life. Her family is in their 6th year of homeschooling and she loves helping other homeschoolers simplify, stay organized and enjoy the journey. Her blog Our Little Slice of Heaven shares resources, printables and hacks for busy homeschool families. Instagram – Pinterest – Blog
This article is a part of our How We Homeschool Series; a collection of content from full-time, veteran homeschoolers sharing their own experiences on the versatility and diversity of homeschooling.
You can read more about the series, and see all of the content, by clicking the image below.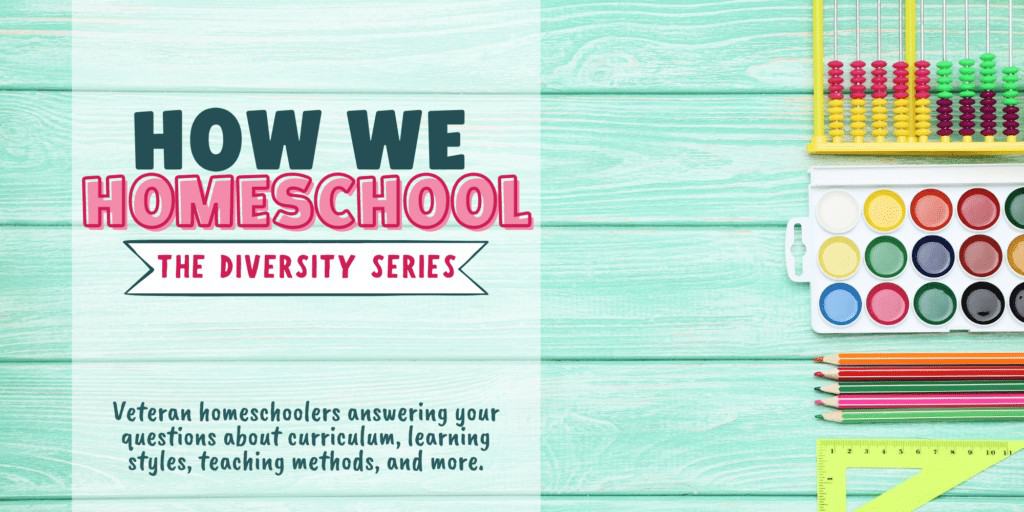 A Special Thanks to Our Sponsors
More from the how we homeschool series…