Earth Day Paint Pour Craft
The Fervent Mama uses Affiliate Links. See our disclosure policy here.
You still have time to pencil in this Earth Day paint pour craft! I love doing projects like this with my kids because they love projects like this! The paint is messy, but the results are beautiful.
Earth Day is a time to remember that God put us on this earth and gave us dominion over it. Taking care of the animals was Adam's first job! Sometimes I think Christians give Earth Day a bad rap, but in fact, taking care of God's creation is one of our God-given responsibilities.
We might not agree with everyone about what that looks like, that's true. We can teach our kids about Earth Day from a BIblical perspective.
It seems like paint pouring crafts are all the rage right now. I think it's because it's pretty foolproof. I mean, anybody can pour paint onto something and call it art, right?
And kids love making a mess and moms, well they can enjoy their kid's excitement about it. So our Earth Day paper plate craft is all about the pour.
In preparation to celebrate Earth Day, you'll want to Amazon these supplies so you can have them ASAP. If you're a homeschooler, just go ahead and schedule this Earth Day paint pour craft as both history and science fun.
Supplies for the Earth Day Paper Paint Pouring Craft
Instructions for the Earth Day Paint Pour Craft
1. Cut the rim off the paper plate. The back of the plate is being painted, so the rounded edge is good, but the paint will get trapped on the rim.
2. Set out 6 cups, we will label these: 1, 2, 3, 4, 5, 6. Fill cups 1,2,3 with green paint and cups 4,5,6 with blue. Note, since the earth is more water than land, you will need more blue paint than green.
3. Now, add a little white paint to cups 1-green and 4-blue, then a little more than you did the first time to cups 2-green and 5-blue. Mix well. Now you have 3 different shades of green and blue. Keep in mind, lighter coloring will show better than dark, and the more contrast the better.
4. Finally, fill a cup with a small amount of white.
Acrylic Paint, 2-Ounce, White
Acrylic Paint, 2-Ounce, Leaf Green
Crafters Acrylic, 8-Ounce, Navy Blue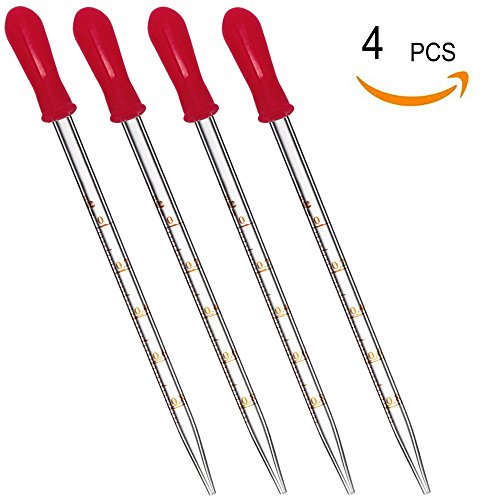 Glass Graduated Dropper Pipettes
5. Now, we need to dilute the paints with water so they pour well. The amount of water will depend on the type of paint you are using. Generally, you want the paint to pour easily but not be watery. The consistency will be between a milkshake and syrup.
6. Now for the setup. Set the tray on the table with the bowl in the center facing up. The bowl will allow space for the paint to drop off the plate. Place the plate on the bowl facing down. The rounded edges of the plate are now facing down, allowing the paint to drip down.
7. Now, pour the darkest blue in the center of the plate, covering about 1/4rd of the plate. Next, take the medium shade of blue, and pour in the middle of the dark blue. Take the lightest blue and pour in the middle of the medium blue. Follow up with a tiny bit of white.
8. Continuing layering the colors & shades in this manner – pouring the next color inside the previous one. It's okay if the paint ends up moving to one side, just start another group of paint where you need it. Also, keep in mind the earth is mostly blue, so use little green. Also, pour only a little bit of white.
9. Once the plate is mostly covered, gently grab the edge of the plate and tip towards each side to spread the paint around.
10. Let the plate sit on the bowl for 24 hours, there's a lot of paint on the plate so it does take a significant time to dry.
Is it too early for an Earth Day Paper Plate Craft? You'll love our Treasures in Heaven St Patricks Day Craft for Kids.
11. Enjoy your out-of-this-world art!
This Earth Day paint pour craft is sure to get your little one excited to learn more about our planet. If you participate in this craft, take a photo and share it with our homeschooling group on Facebook! Use the tag #EarthDay when you share it so that everyone can enjoy seeing each other's paint pour photos in one place!
Are you excited about Earth Day? What are you and your family doing to celebrate?