Creating a Lifestyle of Learning in Your Homeschool
The Fervent Mama uses Affiliate Links. See our disclosure policy here.
"Can you read it again, Mommy?" "Look at that beautiful waterfall! Why does the water fall off the rocks?" "Tell us what's it's like to be a missionary in the Congo?"
Life is full of opportunities to learn, explore, and discover! We live a lifestyle of learning making the most of everything life throws our way! Hurricanes, trips to the hospital, vacations, walks around the block, and visits with older folks all provide unexpected life lessons.
As homeschoolers, we have a great opportunity to not only teach our children educational aspects but truly craft lives and experiences by welcoming them into a lifestyle of learning.
Creating a Lifestyle of Learning in Your Homeschool
Jesus First!
Jesus is the center of our home school. We love His Word and take it seriously. We are so grateful for grace! We create a culture of prayer in our home by turning to the Lord with our needs. In return, he is faithful. He cares for us and gives us wisdom!
God calls us to prepare our children for real life. We mentor our children by teaching them the skills and principles they need to live a successfully. We are strategic in giving assignments that actually train them, like making a budget, planning an event, mapping out the route, or planting their own garden.
We don't just teach our children about Jesus, we introduce them to Him, encouraging them to foster their own relationship that is independent of us!
We learn in light of God's Word as the measuring stick of right/wrong and good/evil. Christian worldview in curriculum matters to us! Preparation for God's call on our children's lives is a big reason we homeschool.
For More Encouragement in Keeping Jesus Preeminent!
Living Literature & Classics
Our home is filled with lovely books and we're always bringing more in! Through these books, we've traveled to exotic places, met colorful characters, and learned lessons from other times and places.
We love to learn with good books:
Classic literature
Biographies
Historical fiction
Picture books for all ages
Great works/documents/diaries/histories
Living books about school subjects
Ways we enjoy good books:
Reading independently
Snuggle up and read aloud
Discuss good books with one another
Book clubs with family/friends
Acting out scenes from books (costumes optional)
Making up new endings
Giving books as gifts
Hands-On Learning Fun
Learning is fun! Getting messy seems to cement learning better than anything else I know! Over the years we have enjoyed crafting and creating.
Here are just a few of the projects we had a blast doing:
Building a volcano of paper mache
Designing an amusement park
Creating a suburb
Lewis-n-Clark shoulder bag
Fingerpainting with pudding
World War I diorama
Model of the city of Jerusalem
Railroad ties & tracks
Battles with army men
Castle out of refrigerator boxes
Building the Great Wall of China
"Skyscraper" out of boxes contest (who's was the highest)
We also love to dress up and act it out.
Here are some of our favorite memories:
Scenes from Little Woman and Little House books
Minuteman relay (timing each other on how fast it is to get ready like a minute man with uniform and guns)
Radio dramas (these are a blast!)
Tea parties (Victorian, Anne of Green Gables, Colonial)
Luau
Archaeology Dig
Ancient Greek Olympics
Medieval Banquet
Vaudeville Show
Gran Prix
Game shows
Talk shows
Pan for Gold
Changing words of Christmas carols to be about something we are studying
Commercials (create and film)
Integrated Learning
Age
As much as is possible, we learn together. There always seems to be something with history and science that can include the little ones with the big ones. Art and music appreciation is another subject that works well for all ages.
So, say we are studying oceanography. The high schoolers might use a high school textbook and the younger ones a different one or a lapbook. I will sit down and make all the chapters match up so that means the younger kids will do some work out of order. Then we take field trips to the beach and aquariums together. We also do crafts, experiments, and dissections together. This keeps the family together even if they are all using different books at different grade levels.
Subject
We love integrating subjects. For example, when we study USA history, we read American literature or historical fiction set in different time periods of USA history. We will enjoy art and music along the historical timeline throughout the year. We will map and craft related to those things. Some of our writing assignments will dovetail with our history studies, too.
Travel God's World
God has created a beautiful world. There is so much to explore! Whether it's a walk around the block or a trip across the ocean, there is so much to discover!
Walking is so peaceful and fun, especially along the seashore or in the woods. You can gather twigs or shells along the way. My children always came home with treasures when they were little.
My daughter Julianna would collect rocks from everywhere. I would suddenly discover that my purse was super-heavy, only to find it full of all kinds of stones and rocks. One time I found chunks of asphalt at the bottom of my purse. "It sparkled," she informed me when I asked her why there were chunks of the road in my purse. I love that!
We've gone on a million field trips and we've also visited some interesting cities and towns packed with history and beauty. Travel has added so much to our studies that when we learn about other places, we pretend to travel there!
Now, it's so easy with travel guides and the internet. We find the perfect flight. We pick hotels and we map out our vacation. Often we can explore places online!
Curriculum We Use
When I started homeschooling, I felt safer to just use traditional textbooks. I felt nervous about myself as a teacher. I read a few books on how to teach by other homeschool moms and often asked advice from homeschool friends. But, after a couple of years, I was ready to try new things and discover what works best for our family.
We use:
Interesting textbooks
Timelines
Maps & blank outline maps
Microscope/telescope/globe/binoculars
Artbooks or posters
When we use textbooks, we always add living books, biographies, and/or historical fiction to the course!
We have created a lot of our own curriculum and used resources created by other homeschooling families. When we create our own classes, we start with living books and add hands-on learning fun.
I am careful to create and choose a curriculum that is interesting and fun. I want my children to be enthusiastic learners. We are on an adventure together!
Impromptu Learning Opportunities
Life is full of opportunities to add to our learning. We encounter a new experience so we are driven to research. Here are some situations where we have learned something new:
Hospitalizations
Missionary friends visiting
Old folks with so many stories of the olden days
Rescuing a turtle in the middle of the road
Adopting a cat who turns out to be pregnant
Construction site
Careers of family and friends
Friends from other countries
Bible study or sermon topic
For more on the Lifestyle of Learning, I want to invite you to read: The Gentle Art of Homeschooling.
CLICK HERE TO CLAIM YOUR COPY OF 100 HOMESCHOOL HACKS!
I love homeschooling! If you are starting on your own homeschooling journey for the first time, I'm convinced you will love it, too! Please contact me with questions. I'm here for you!
This post was written by….
Meredith Curtis, pastor's wife, mom to 5 amazing children, and grandmother to 3 angels, loves to inspire and equip homeschooling families to be joyful and successful in their homeschooling adventure. She is the author of Travel God's World Geography, HIS Story of the 20th Century, Let's Have Our Own Medieval Banquet, Travel to London Unit Study, and Joyful and Successful Homeschooling.
You can read her blog and shop at PowerlineProd. Listen to her at Finish Well Podcast. Find her on Facebook, Instagram, Twitter, and Pinterest.
This article is a part of our How We Homeschool Series; a collection of content from full-time, veteran homeschoolers sharing their own experiences on the versatility and diversity of homeschooling. You can read more about the series, and see all of the content, by clicking the image below.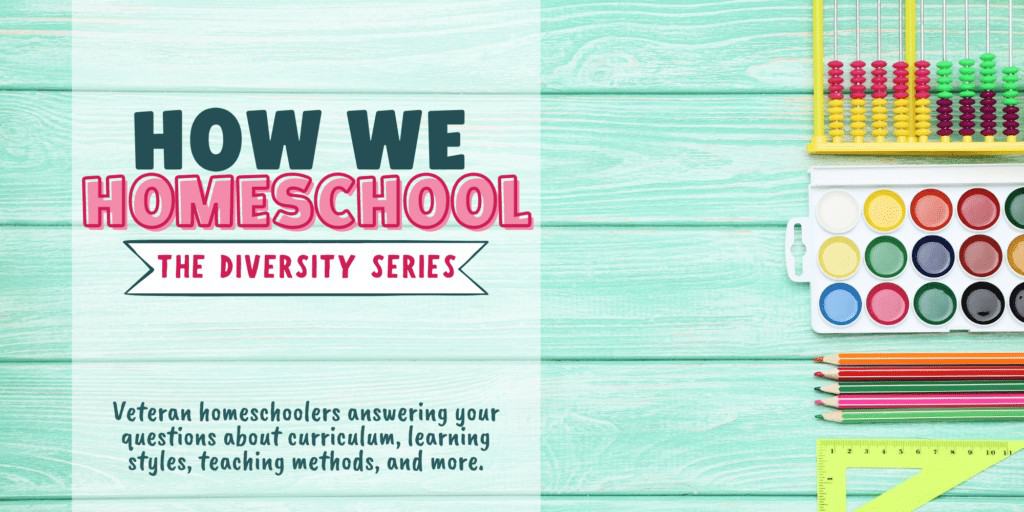 A Special Thanks to Our Sponsors

More from the how we homeschool series
how we homeschool series Giveaways