The Best Clean T.V. Shows on Netflix (Updated 2019)
The Fervent Mama uses Affiliate Links. See our disclosure policy here.
If you're anything like me, you're finding it harder and harder to find good, quality television shows to watch that are clean. Much less something that is family-friendly.
Clean tv shows are super hard to find these days. For some reason, writers and producers must think that "clean" means "boring."
FYI, it doesn't. It just means limiting loads of sex, violence, and foul language that most television shows and movies have these days.
I'm a homeschool mama, and also a work-at-home-mama, who just needs a little mental break every now and again. If we're being honest, some days these tv shows are my only adult interaction until my husband gets home.
I have a little obsession with finding tv shows that are worth watching. So when I set out to find clean tv shows on Netflix, I knew that I couldn't fail you now!
We don't have regular cable tv, so we do LOTS of streaming here. Thanks to Netflix, Amazon Prime Video, Hulu and all the other amazing streamable content apps out there- it's super easy to dive into a great binge session.
One that I don't have to worry about my kids walking in on. Hence the serious need for CLEAN tv shows on Netflix.
P.S. Producers, Writers, Creators, if you're reading this, my eyes are on you!
Not only as parents but as Bible-believing Christians, we have a high responsibility to ensure that our hearts and minds stay pure. This means we must account for our children, too.
I've got to make sure that whatever is on, is quality entertainment that I don't have to babysit the television if my kids walk in the room.
To prove that clean doesn't have to be boring, I put together a list of clean tv shows on Netflix that are totally binge-worthy and not boring in the least bit.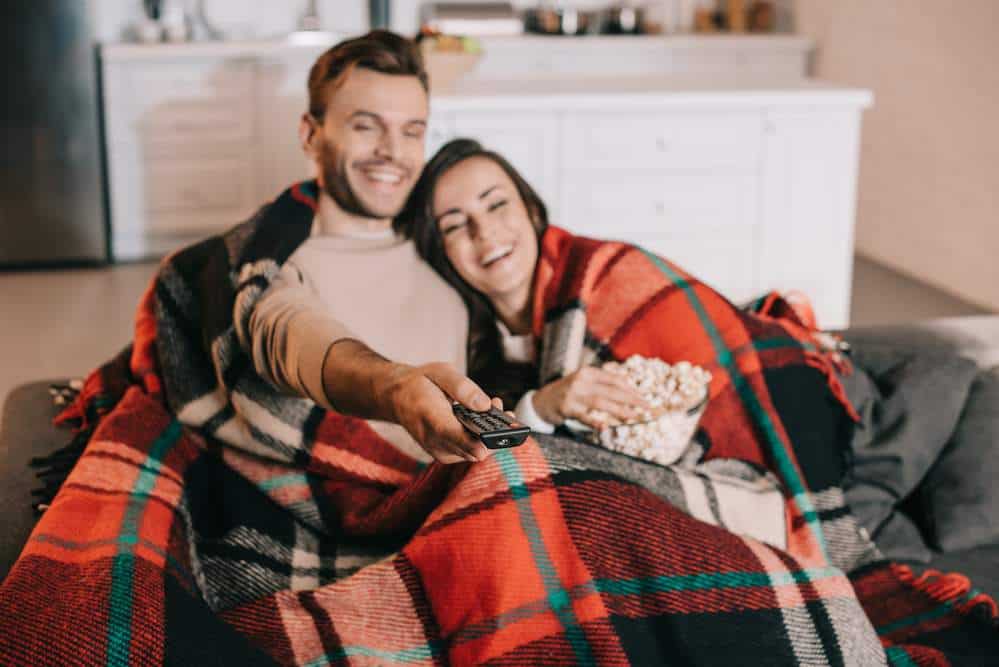 The Best Clean TV Shows on Netflix
DISCLAIMER:
This list is based purely on my own opinions and is likely to change at any time as new seasons or shows are premiered.
At the time that this post was written, I had watched nearly every episode available of each of these shows. However, what is "clean" to me, may not be so to you. Use your own discretion.
An adult should consent to any recommended t.v. shows.
All streaming services change what they offer. I try to update this list as much as I can.
If you need some extra help deciding if a show is right for you, I suggest checking Christian Movie Review Sites. Many of them list television shows as well.
When Calls the Heart
The gorgeous and wealthy, Elizabeth Thatcher, migrates to a new town where she is the head school teacher. Her love of learning inspires the younger children to chase their dreams in this dusty coal-mining town.
Hallmark has seriously done themselves out with this one. It's quality, it's clean, and it's truly entertaining to watch.
The Paradise
Denise is a small town country girl that moves into a town where the very first department store has opened. This series follows her life as she follows her dreams and finds love along the way.
I'm a sucker for time-period dramas and this one does not disappoint! I was so sad that this one ended!
UPDATE: This series is no longer available on Netflix, but you can rent it on Amazon Prime Video.
HeartLand
This Canadian set drama is about generations of a particular family of country folks coming together to fight through hard times and love through others.
In the spirit of full disclosure, I haven't watched all of this one yet. Maybe it's just not my cup of tea? But our readers definitely suggest it and I've heard great things!
Cedar Cove
This series follows the main character, Municipal Court Judge Olivia Lockhart, as she lives in the small town of Cedar Cove. Follow her life in this "everybody knows everybody" small town, as it unfolds in a brand new way.
This is definitely an adult series as it follows the life of a middle-aged woman. However, besides the occasional drinking by the characters, it remains clean! UPDATE: This show is no longer available on Netflix, but you can find it on Amazon Prime Video!
Call the Midwife
A true story of the London's East End in the 1950s. This series chronicles the lives of a group of tight-knit midwives in times of struggles.

UPDATE: Call the Midwife did write into a later season a same-sex couple as part of its main character line. Viewer Discretion. There may be more information on this in the comment section from other readers/viewers. Not suitable for children!
Land Girls
Follow the lives, loves and highs and lows of four members of the Women's Land Army who are working at the Hoxley Estate during World War II.
I loved this series! Again, another time-period drama!
Free Rein
15-year-old Zoe spends the summer with her family in the British countryside when she meets a horse who teaches her to face her own difficult situations.
I've only made it past the first few episodes, and they were good, but kind of tween-teenish- I had my little sister start it and she loves it!
Downton Abbey
An inside look of the Crawley family and their servants in the early 20th century.
LOVE, LOVE, LOVE this series. UPDATE: In future seasons, there is a same-sex reference, followed by some content. UPDATE 2: This show is no longer available on Netflix. But you can find it on Amazon Prime Video!
North and South
An adaptation of Elizabeth Gaskell's love story of Margaret Hale, a middle-class British southerner who is forced to move to the northern town of Milton.
This is an older one that I can't quite remember too well, but from what I can remember, it remained clean.
Anne With an E
A new take on L.M. Montgomery's classic novels. Follow along with overly dramatic orphaned Anne as she navigates through new adventures in the 19th century.
I absolutely loved the remake of this series until Season 2. Anne is faced with things that are not relevant to the novel (gay relationships) and has a very liberal point of view.
Hostages
A surgeon planning to operate on the president is blackmailed and held hostage by a federal agent. Who can they trust?
Not for young children, but entertaining for adults. Short season. UPDATE: This show is no longer available on Netflix, but you can find it on Amazon Prime Video!
Granite Flats
Three young friends living on an Army base in the '60s(?) adventure through their town trying to solve mysteries and expose secrets.
I was pleasantly surprised that the majority of this show followed the lives of teenagers, but kept me quite entertained! UPDATE: I've searched all the streaming options to find this show, but it seems like they no longer offer it.
Sherlock
A modern version of the famous novel finds Sherlock Holmes and his partner solving more mysteries than they've bargained for.
Definitely not suitable for young eyes, but we love this adaptation of Sherlock Holmes. We're mystery people, and this did not disappoint!
The Middle
Series follows a semi-dysfunctional family that tries to be average at simple life in a small town in Indiana.
I haven't seen all of the episodes, but I can definitely relate to the family with the ones I have seen. UPDATE: A friend (but not a main character) does have overly effeminate characteristics.
Speechless
A family learns to allow their lives to spin around their special-needs teen member as they comedically struggle through the challenges it brings.
I cannot vouch for all of this show as I kind of got bored with it. However, the show in itself seemed fairly clean. UPDATE: This show is no longer on Netflix, but you can find some seasons on Hulu and some seasons on Amazon Prime Video!
Last Man Standing
A conservative father of three stands with the women in his life while he strives to maintain his manliness.
I love this show, but it does have a little bit of language in it, which is disappointing. UPDATE: This show is no longer available on Netflix, but you can find it on Hulu!
Once Upon a Time
Everyone in the town of Storybrooke is a character from famous enchanted stories. Once you enter the town, you can't leave.
I stopped watching this show after a big finale on one season where there was lots of magic and fighting a dragon. It just got weird to me.
The Andy Griffith Show
All about a small town filled with loveable characters.
I surely couldn't leave this one out as it's one of the best originals out there. The whole family will fall in love with this black and white series!
Highway to Heaven
An angel and a cop make an unlikely pair, but together they face some of humanities greatest foes.
I added this oldie in here because of the number of readers that suggested it. I have not watched this, so watch at your own discretion. It is rated PG.
Don't have a Netflix or Hulu subscription? Save your bucks by signing up with Rakuten!
If you already have a Rakuten account, head here to get $5 off your Hulu subscription! If you're already signed up, or are a previous customer, use a different email to claim your $5!
If you don't have a Rakuten account, sign up for Rakuten today and get a free $10! Then head here to get $5 off your Hulu subscription!
Want to know more about what Rakuten is and how it can save you money while shopping online? Here are 10 Reasons Why You Should Be Using Rakuten.
Love shopping online? We've written a whole post dedicated to saving you money when you shop online! Try any of these FIVE cashback sites when you're shopping online!
You may also like these titles:
I'm on the hunt for more non-trashy tv shows on Netflix. I'm even searching Amazon Prime and Hulu too to find some great shows! Do you have any suggestions for clean tv shows that we can stream?
Have you seen any of these clean tv shows on Netflix? Are there any other good, feel-good shows out there that we should try?